Nexus 7 might hit retail this Thursday

It's being tipped by several sources this week that Thursday might be the day that retail locations throughout the United States get their hands on the Google Nexus 7 tablet. This device has had its "expected ship date" switched today in the Google Play store from 3-4 weeks down to 1-2 weeks, and an Office Max internal document appears to have been leaked today noting that a massive 341 locations will have in-store availability starting less than two days from now.
This device has had pre-orders set up for Staples as well as Office Depot, and the former has been noting that they'll be receiving shipment on or right after the 12th of this month. Office Depot has noted that pre-orders will begin shipping on the 12th, while Google finds itself in a potential jam, as it were. If the Google Play store is unable to ship their units for arrival before these two office stores get their products in for in-store sales, there will be quite a few angry Android fans out there, to put it lightly.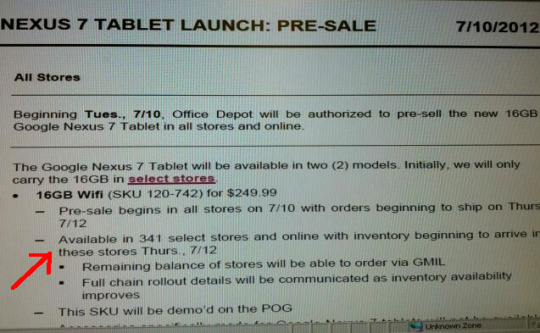 What you're seeing above is a Nexus 7 Tablet Launch one-sheet sent to the email of a supposed Office Depot employee. If what they say is true, we're currently inside the week that will give out the Nexus 7 to all those willing to pay for the $199 beast. For those of you that are unsure, head to our full Google Nexus 7 review, and check out the timeline below for more Nexus 7 action from the past couple of weeks!
[VMS 62c36ecb73b654b05ba2]
[via Android Community]