Google Nexus 7 tablet official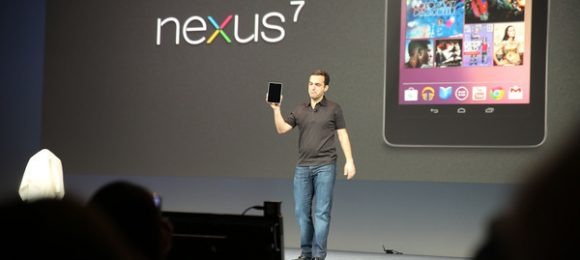 This week at Google I/O 2012 the teams of Google and ASUS have revealed the Nexus 7 ASUS tablet – the first official Nexus series Android tablet – with Jelly Bean. This device has 1200 x 800 HD pixels across its face, a Tegra 3 quad-core processor with 12-core GPU from NVIDIA, a front-facing camera (whose specs were not revealed), and a 9 hour battery (video playback). This tablet is 340g light, "fits perfectly in one hand", and "just feels right."
This device has been revealed to show off the Jelly Bean experience, but also to push the Google Play app store to the forefront as well. This device has a new widget called "My Library" – it connected to your cloud in the Google Play shop.
The new Google Play magazines app is included in this release, with a full selection of one of the newest items on the Google Play store. This device is obviously also made to show off the new Google Play TV show episodes and Movie purchasing revealed this week as well.
Have a peek at our I/O 2012 portal as well as our Android portal this whole week to keep up to date on all things I/O!