Nexus 7 2 pre-orders land at Best Buy ahead of today's event [UPDATE]

We may receive a commission on purchases made from links.
If you haven't already heard, Google is hosting an event later today that is said to see the official unveiling of Google's next-generation Nexus 7. However, Best Buy seems to have jumped the gun a bit and have put the tablet up for pre-order on their website, with both the 16GB and 32GB models available.UPDATE: Looks like Best Buy caught the oopsie and have changed the status to "coming soon"
We already saw a circular ad leak just recently at Best Buy that showed the new Nexus 7 tablet advertised and ready to sell, with a suspected release date of July 30. The ad only showed us a small amount of specs to look forward to, including Android 4.3, but the pre-order page shows that Google is sticking with the Jelly Bean name for this latest update.
The Best Buy listing shows the new Nexus 7 running a Qualcomm Snapdragon S4 Pro 8064 processor clocked at 1.5GHz with 2GB of RAM and Adreno 320 graphics. The tablet also sports 802.11a/b/g/n wireless and Bluetooth 4.0. The screen is staying at 7 inches, but will have a smooth 1920x1200 resolution.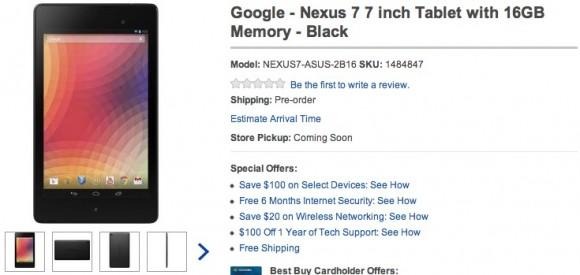 There will also be a 5MP rear camera paired up with a 1.2MP front-facing snapper. You'll also be treated with SlimPort, which will let you output 1080p video directly from the tablet. The Best Buy listing pretty much gives away everything on the new Nexus 7 just a few hours before the official unveiling is planned to take place.
Perhaps the only thing we didn't really know before was whether or not Android 4.3 would be Jelly Bean or Key Lime Pie. Rumors in the past have all hinted to the update sticking with the Jelly Bean moniker, but it looks like it's confirmed now, thanks to this Best Buy listing. Prices for the new tablet start at $229, with the 32GB version priced at $269.