Nexus 7 2 Best Buy ad affirms full HD display

We might have already heard quite a few ramblings of the next-generation Nexus 7, but nothing is quite as solid as a leaked retail store circular ad. A leaked Best Buy ad shows off the next-generation Nexus 7, revealing not only its $229 price tag, but also the 1920x1200 full HD display gracing the front of the tablet.
The ad also notes that the $229 price tag will get you 16GB of storage, meaning that the 32GB version will cost just a little bit more, possibly in the $249 or $279 range. Sadly, Best Buy is always pretty vague about advertising products in their weekly ads, so we don't get treated with any more details than those little tidbits.
However, the Best Buy circular mentions that the tablet will be "available Tuesday." Seeing as how Google is holding an event on Wednesday this week, the ad could be referring to July 30 as the official launch date of the refreshed Google slate. However, the distribution date for the leaked circular isn't known, so whatever date "Tuesday" is, is still unknown, but it's said the circular will begin running on July 28, so we have no reason to not think that the new Nexus 7 will be arriving on July 30.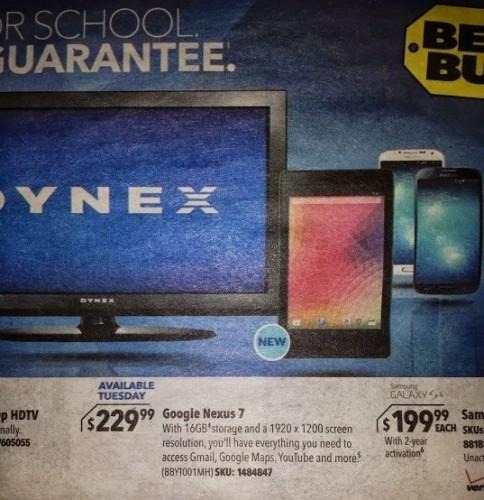 The refreshed Nexus 7 is also said to be getting an update to Android 4.3, and will come with dual cameras, as well as wireless charging, which we've already seen on Google's latest Nexus 4 handset. The tablet is also said to be sporting a quad-core processor clocked at 1.5GHz with 2GB of RAM paired up. Exact specs aren't known, obviously, but it seems this new Nexus 7 refresh will be a big one, while keeping the same 7-inch screen and mostly the same body style.
SOURCE: Phone Arena