Nexus 5 service manual leaked as LG specs hit the rumor mill

The Nexus 5 rumor mill has just received a 16-wheeler's worth of fresh-cut lumber. According to Android Police, a service manual for the LG-D821 (quite possibly one of the makes and models for the next Google Nexus smartphone) today was leaked and posted to Scribd, spilling a substantial amount of insider information about the upcoming Nexus 5.
According to the (now removed) manual, the LG-D821 will have a 4.95" 1080p IPS TFT display, 8 MP OIS rear camera, 1.3 MP front camera, and a notification light. The earpiece will likely appear round instead of slot-like.
It will run on a 2.3GHz Snapdragon 800 (MSM8974) processor with 2GB of ram. Internal storage will be generous with either 16GB or 32GB of hard space. The phone uses a robust 2300mAh battery, although estimated standby time and talk time are as yet undetermined.
The rumored device will support SlimPort, wireless charging, near-field communication and Bluetooth 4.0 (the manual said 3.0 but consensus agrees that's a typo in the manual.) It has a micro SIM slot and is compatible with UMTS, GSM, CDMA, LTE systems. On-board sensors include an accelerometer, gyroscope, compass, proximity and ambient light detectors, and pressure sensors.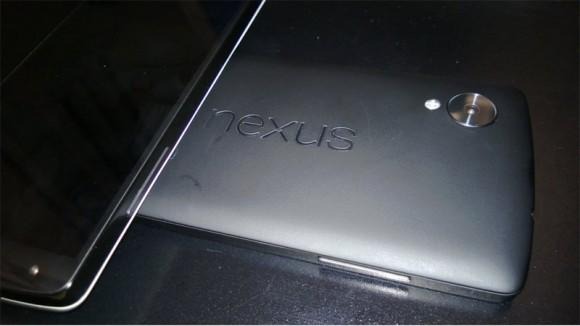 Above: another appearance of the device photographed by a friend of an inside source just last week.
The manual is purported to be a working draft, so the specs aren't 100% confirmed, but those are a few of the more tantalizing details gleaned from today's Nexus 5 leak.
Also this weekend, Myce uncovered a code snippet that seemed to imply a "password vault" for managing Bluetooth passwords in Nexus 5 phones.