Nexus 5 iFixit teardown shows Synaptics, Sandisk, SK Hynix innards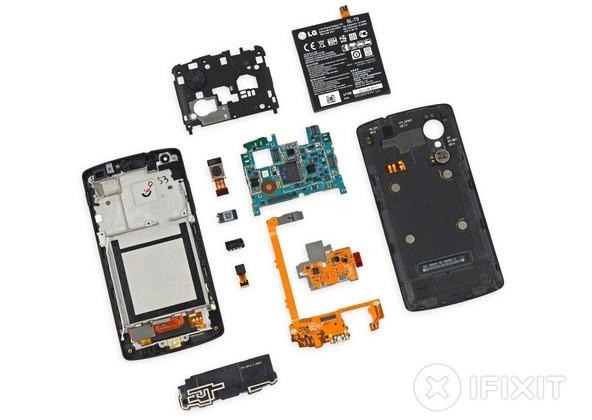 While the majority of the insides of the Google Nexus 5 are, today in iFixit's teardown session, not appearing as big surprises, there are quite a few points of interest to be seen. Inside this beast of a smartphone you'll find – to every repair shop's glee – plastic clips holding the back of the machine down. This is very similar to the construction of the ASUS-made Nexus 7 (2012 and 2013), allowing quick opening for fixing parts while keeping a strong hold for the common user.
Also under the hood is a rather easy-to-repair set of parts. iFixit makes clear their approval of the device, noting also that it contains "the goldilocks of glue", with not too much, and not too little to hold everything together. Too much glue – as they decided was present in the iPad Air, means repair shops have a lot harder time taking the whole thing apart for fixes.
Inside the Nexus 5 you'll find a collection of parts from different manufacturers, as is the norm with any modern high-tech piece of smart equipment like this. RAM is made by SK Hynix, Analogix creates the SlimPort transmitter, and Qualcomm brings the Snapdragon 800 quad-core processor. This SoC from Qualcomm is joined by audio codec as well as power management ICs made by the same OEM, while the only other brand to hold more than one piece of architecture in this smartphone is Avago.
UPDATE: Broadcom also appears to be rolling with two pieces of hardware inside the Nexus 5, with both a 5G Wi-fi combo chip (with integrated power and low-noise amplifiers) and the integrated NFC controller. With the Broadcom NFC BCM20793M NFC controller, Google kicks out carrier-based blocking of Google Wallet – freedom!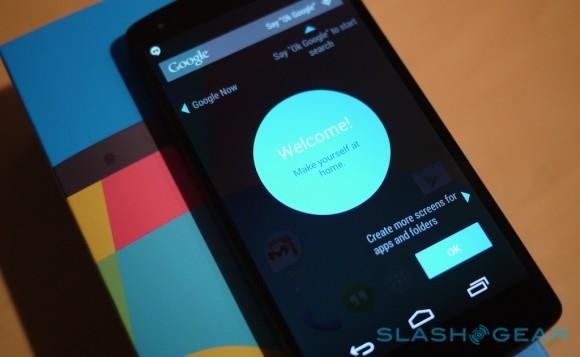 Synaptics S3350B touchscreen controller makes this a next-generation piece of hardware while Sandisk presents 16GB of NAND flash in the form of an SDIN8DE. Have a peek at our first impressions of the Nexus 5, and stick around as we bring on a full-fledged Nexus 5 review sooner than later!