iPad Air iFixit teardown reveals Qualcomm, Broadcom, Toshiba inside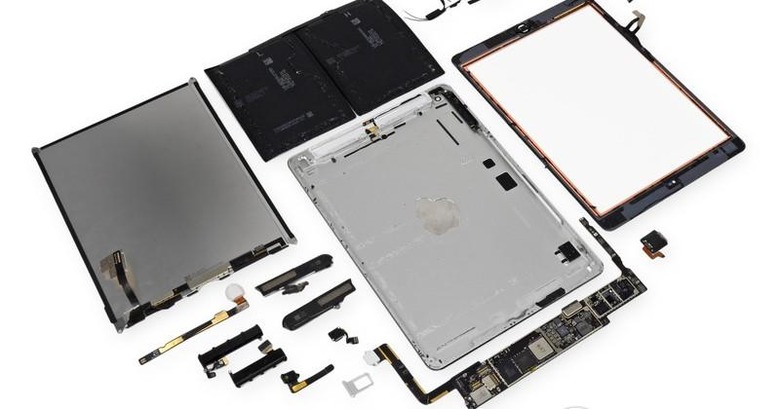 This week the folks at iFixit have taken their spudgers to the iPad Air, pulling it apart to reveal all the little bits and pieces that together make the smallest of the larger-end of iPad units on the market today. This device is indeed just hitting the market today, appearing at Apple Stores and 3rd-party retailers across the United States and abroad. It's likely most consumers will never see beyond the outer casing of this machine – but this community is all about going a whole lot deeper.
Inside you're going to find an Apple APL5698 A7 chip, an ever-so-slightly different version of Apple's processor technology than the one included in the iPhone 5s. The iPhone 5s was revealed to be rolling with the Apple A7 chip by the name of APL0698 instead – we'll likely see a different version again in the Retina iPad mini. Also inside you'll find an NXP LPC18A1 unit, better known as the Apple M7 Motion co-processor.
This machine works with two individual Broadcom touch screen controllers, and runs with an M9616M LTE processor from Qualcomm with 1GB of DRAM. This is separate from the Elpida F8164A1MD 1GB LPDDR3 SDRAM also included in this unit – one way or another, you're working with 1GB of RAM for your processor.
NAND Flash is provided by a 16GB bit of architecture from Toshiba, while Qualcomm again keeps charge with a PM8018 PMIC. As with many Apple devices before, this iPad Air is no stranger to working with parts made by companies other than Apple – it's a group effort, don't get it twisted!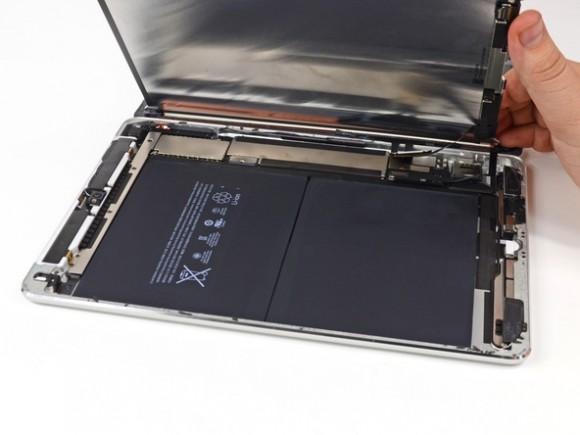 The folks at iFixit have rated the iPad Air a 2 out of 10 for repairability – in other words, you're definitely going to want to get an actual Apple repair person to fix this machine rather than doing it yourself. It's just not worth the hassle. Lots and lots of glue involved with the battery, and the rest (though pretty) is nearly as difficult to dissemble as well.