iPad Air in stores with price-matching (if you know where to look)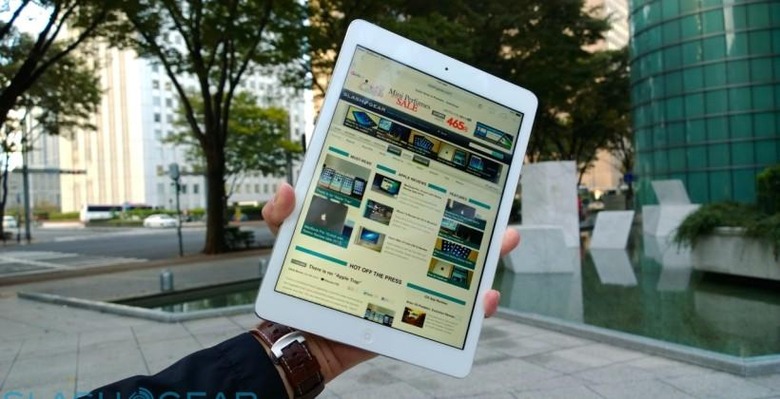 The Apple iPad Air goes on sale online and in-stores today, with not just the Apple Store itself sending the machine out to the public. This device is the newest in a line of iPad devices having been released over the past several years, this time bringing on the thinnest and smallest physical footprint the larger of the two iPad models has ever had. This device will continue to be sold alongside the iPad mini and soon the iPad mini with Retina display – likely by the end of this month for the latter.
What's interesting about this launch is the fact that you'll be able to pick the machine up for different prices depending on the store you approach. While all Apple stores will be selling the iPad Air starting at $499, there are retail outlets – Walmart, for example – that'll be selling the machine for $479. It would appear though that both Apple Stores and Best Buy will be matching this price point if you ask – or in some cases if you simply head into the physical store – just on launch-day.
NOTE: Have a peek at our iPad Air review for a closer look!
This word comes from 9to5Mac, joined by word that RadioShack will not be cutting prices to the iPad Air whatsoever. RadioShack will, on the other hand, be bringing on the new prices for the iPad mini, starting at $299. RadioShack outlets have also suggested that they'll be upping trade-in values for iPads, but exact numbers have not been shared.
The iPad Air is being offered by each of the four major mobile carriers in the United States as well as in the Apple Store Online and the Apple Store iOS App – buy it there and pick it up in-store for an easy skip of the line. It's not likely that this device will sell out in the United States given the lack of a pre-order period and the fact that they've pushed it immediately to several 3rd-party retailers. We have heard word that retailers in Hong Kong have sold out, but exact details are scant – stay tuned!