Nexus 5 first-impressions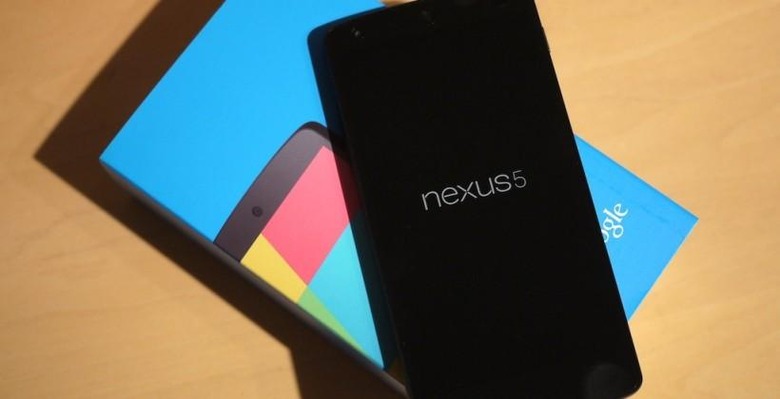 Could the Nexus 5 be the most rumored Google phone since the original Nexus One? Weeks of leaks, the culmination of months of speculation, and Google finally announced its fifth generation of self-branded hardware – with a little help from LG, of course – alongside Android 4.4 KitKat this week. The Nexus 4 made waves with its sub-$300 unsubsidized price tag, though the Nexus 5 can't quite slip under that all-important mental barrier, the (sold out) 16GB model starting at $349. However, it's still something of a bargain, and now supports LTE, much missed from its predecessor. Read on for some first impressions.
LG may have made both the fourth and fifth Nexus, but the two phones have a surprisingly different feel in the hand. Whereas the Nexus 4 is a glassy slab with rounded edges, the Nexus 5 goes for a crisper feel, ditching the – contentious, and often easily cracked – glass rear panel of its predecessor, in favor of soft touch plastic and crisp corners.
The front is a single sheet of glass, pierced only by an endearingly porthole-like earpiece. It has the narrow screen bezels of the LG G2, as well as a front-facing camera that's offset right to the left of the upper bezel. A pleasingly crisp and tactile power/standby button and volume rocker are on the right and left edges, respectively, with a headphone jack up top and a microUSB port plus two speakers on the bottom edge.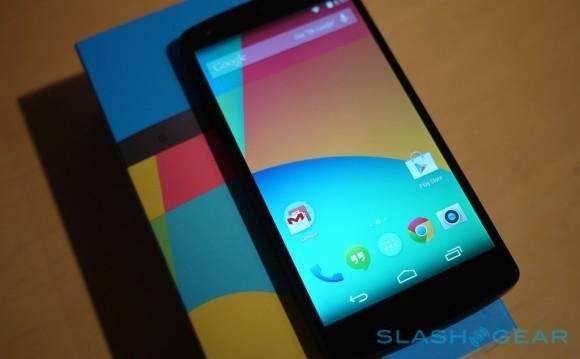 If we've a complaint, it's that though the Nexus 5 feels solid, it doesn't exactly feel premium. In fact, we've similar complaints about it as we had for the Moto X: it's sturdy, but it lacks the metal charm of something like the HTC One or iPhone 5s. The soft-touch coating on the rear is grippy but a real grease magnet, picking up fingerprints pretty much as soon as we got it out of the box, while the protruding 8-megapixel camera has to stand proud of the handset in order to accommodate the optical image stabilization (though we've a feeling it's a compromise we'll be willing to live with, given the advantages OIS brings to mobile photography.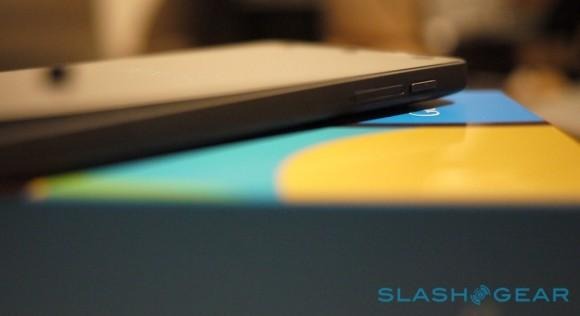 The plus side of plastic is that it's lightweight, and at 130g the Nexus 5 hardly taxes the hand. Inside there's a 2,300 mAh battery, smaller than we've seen from some recent, larger phones; LG and Google opted for restraint, and went for an excellent 5-inch 1080p IPS LCD, which has vivid colors, great brightness, and is happily protected by a sheet of Gorilla Glass 3.
Of course, the Nexus 5 hardware itself is arguably just a vessel for the software: namely, Android 4.4 KitKat. Equally well rumored, Google's latest OS iteration brings Google Now to the fore, adding in the ability to trigger voice searches directly from the homescreen simply by saying "OK Google", much akin to the "OK Google Now" command on the Moto X.
Unlike the Moto X's always-listening party trick, however, the Nexus 5 saves it solely for when the phone is unlocked and on the homescreen. If you're in an app, or the phone is sat idle and locked on your desk, you can shout at it as much as you like but it won't respond.
Meanwhile, Google Now's familiar card-based interface – which shows contextual information like nearby attractions and public transportation directions, as well as information pulled from your calendar and email – now gets a dedicated homescreen pane to live on, accessed by swiping all the way to the left. It's a further sign of what Google has been talking about in terms of pushing context to the fore and being more proactive than reactive in how it serves up information, and it's likely to gain Google Now more users than the old (and still functioning) upward swipe from the home button.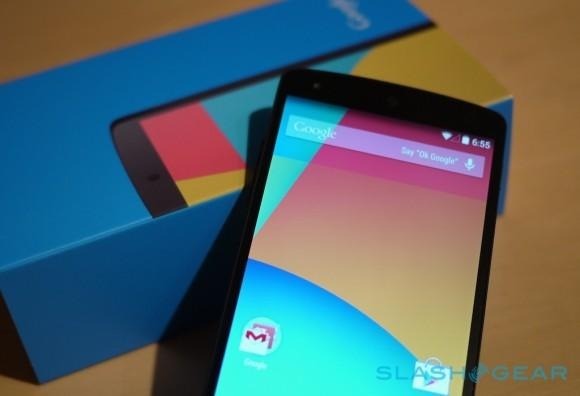 Hangouts has been brought to the fore too, no longer just an IM client but now taking on SMS and MMS duties in KitKat. The merging between those is a sensible one, though it remains to be seen whether carriers or OEMs will muddy the waters by adding their own apps in instead.
Other changes include more transparency to the UI, as well as cleaner blending, such as how the notification bar at the top now fades pleasingly into the wallpaper, echoed at the bottom by the onscreen keys. It feels smooth and responsive, too, no doubt helped by the 2.26GHz Qualcomm Snapdragon 800 processor and Adreno 330 graphics.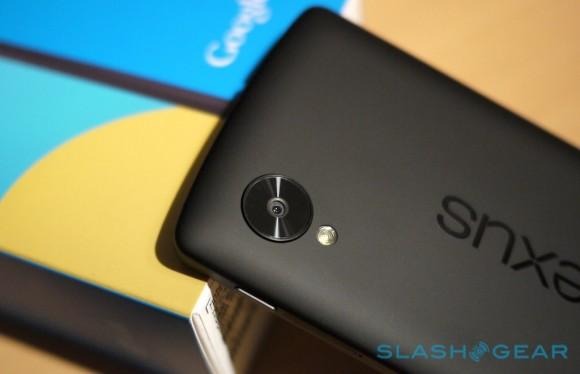 We'll have to put it through its paces in some real world use before our review; until then, there's more on the new additions and changes in KitKat in our full guide.
There's still plenty to figure out about the Nexus 5. Google has struggled with cameras on previous Nexus phones, though is eager to highlight its HDR+ mode which promises to combine the best of multiple shots of the same scene; that's something we'll be testing out thoroughly. Battery life has also been mixed on the Nexus 4, and so longevity is another area of particular interest. Overall, though, it's hard not to be swayed by that competitive pricing, which gives Google an early advantage against rivals that suddenly start looking expensive for what you get.