Nexus 4 Wireless Charging Orb revealed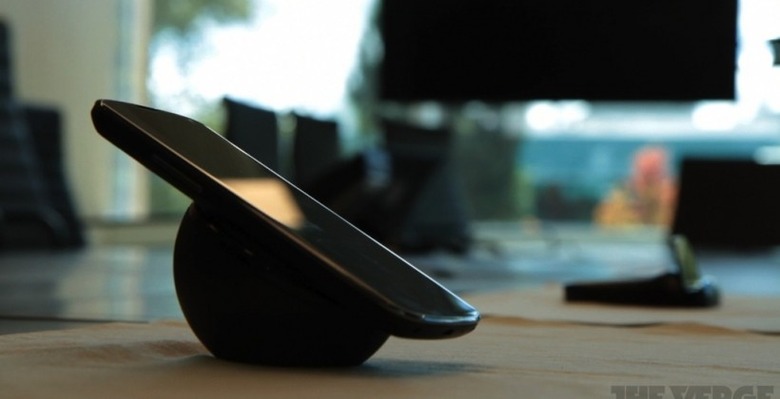 Google has thrown in its lot with wireless charging, equipping the LG Nexus 4 with a companion desktop charging stand called the Wireless Charging Orb. A compact bubble finished in black plastic and rubber, and with a sliced-off docking plate that props the Nexus 4 up at an angle, the new dock will rejuice your Googlephone as well as hold it up for video viewing.
Drop the Nexus 4 on the magnetic dock and it will automatically kick into "Daydream" mode, a new addition to Android 4.2 Jelly Bean, and show photo albums, news from Google Currents, and other content. We've seen similar tech used back in the days of the Palm Pre and the Touchstone charger.
Earlier today it was confirmed that Google – among others – had joined the Power Matters Alliance, which bizarrely is actually pushing a different type of wireless power standard than the Nexus 4 uses. That's because LG is a member of the Wireless Power Consortium, which is advocating the Qi standard.
Still, it does mean that the Nexus 4 will work with other Qi-compatible chargers, and it's worth noting that Google-acquired Motorola Mobility is also part of the Wireless Power Consortium, along with Samsung, HTC, and others. We'd not be surprised to see Google push for a pulling-together of the various standards, using its heft in the marketplace to put pressure on each charger player.
No word on pricing or availability for the Google Wireless Charging Orb at this stage.
[via The Verge]