Nexus 10 caught snapping Google exec's holiday photos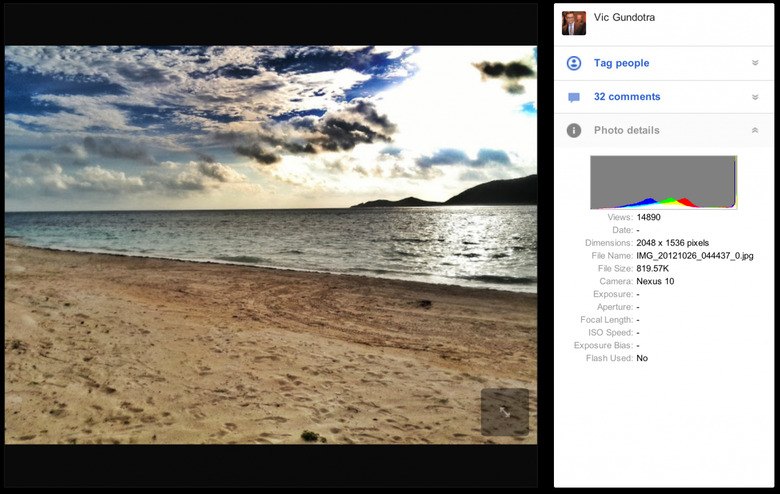 Google's Vic Gundotra has been doing some Samsung Nexus 10 teasing, using the unannounced but broadly-expected Android tablet to share some holiday snaps on Google+. Gundotra does not mention the tablet by name, but the Nexus 10 is listed as the identifier of the camera under the photo details on a number of shots. The resolution is given as roughly 3-megapixels, though since Google+ automatically resizes shots automatically uploaded, that's not necessarily the full resolution of the Nexus 10's camera itself.
In fact, according to previous leaks, we're expecting something along the line of an 8-megapixel camera on the rear of the Nexus 10. It's also certain to have a front-facing camera for video calls and vanity shots.
It's not the first time early Google hardware has been previewed, unofficially, on the company's social network. Images taken with the Google Glass wearable computer have also been spotted, ahead of Google employees officially releasing stills and video samples shot with the headset. Meanwhile, EXIF data has proved useful in flagging up unannounced devices on other online galleries, though since it's relatively straightforward to fake, it's generally taken with a pinch of salt.
Gundotra could well be pranking the tech world with faked image data, but given we're expecting the Nexus 10 to be officially unveiled early next week, that seems less than likely. Meanwhile, what appears to be the Nexus 10's quick start guide popped up online yesterday.
We'll be with Google at the event to bring back all the details, believed to also include the new LG Nexus 4 smartphone.
[via Android Central]