Samsung Nexus 10 quick start manual spotted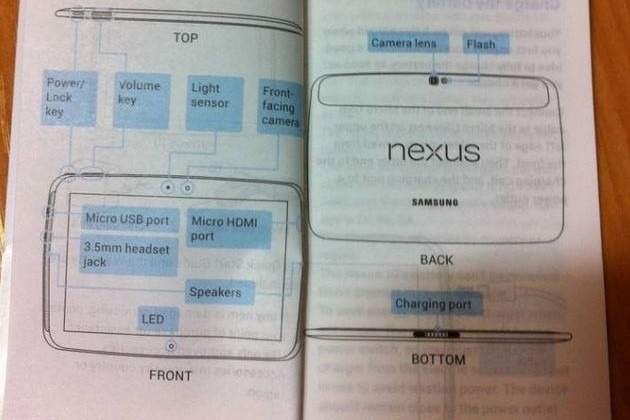 We've heard whispers that claim Google will be unveiling the Samsung-made Nexus 10 tablet during its event on October 29, but today we've got some photographic evidence to back those claims up. Images of a Nexus 10 quick start manual have been posted to Korean site Seeko, and through them, we get an idea of what the Nexus 10 will look like. It doesn't look too terribly different from the more famous Nexus 7, with the biggest difference obviously being the 10-inch screen.
With the images, we also get to see where the various ports and buttons will be positioned on the outside of the device. Other than the diagram, that's pretty much it – there's an image of the cover of the manual, but as you can imagine, that doesn't give away too much information. Still, this serves as evidence that Google will launch a brand new Nexus tablet during its event on Monday, provided this manual hasn't been faked of course.
If the manual is real, it means that Google has a lot on deck for its Android show on the 29th. It's there that we should finally get a reveal of the long-rumored LG Nexus 4 phone, as well as the 32GB Nexus 7, which has been spotted in the wild plenty of times before today. If all of these devices exist, then we should be in for one exciting show come Monday.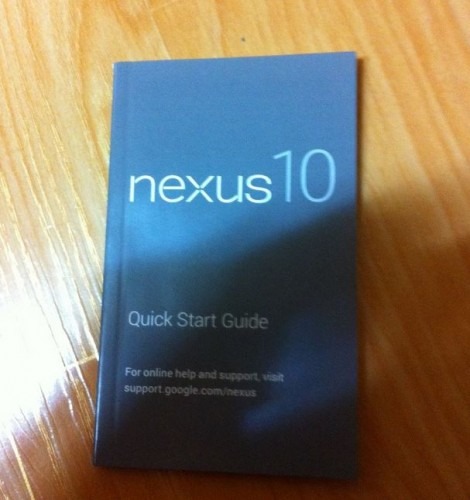 As for the Nexus 10, it sounds like this new tablet is primed to steal some thunder from the iPad. We've been hearing that the Nexus 10 will be running at 2,560 x 1,600 resolution, which gives the tablet a 299 ppi pixel density, and if that's true then we should have quite the tablet on our hands. Keep it tuned here to SlashGear, as we'll be at Google's event on Monday to tell you all you need to know!
[via The Verge]