Next iPhone's nano-SIM tray poses for its closeup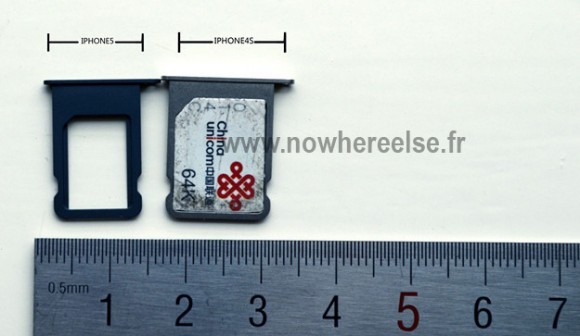 Current reports indicate that the next iPhone is due to be unveiled on September 12th, and will ship into customers hands roughly 9 days later. Various case parts and specifications for the handset have emerged over the past few months, with new pictures showing off an alleged SIM card tray for the phone. As has been alluded to in the past, the new SIM card tray will make use of the recently approved nano-SIM standard, with comparison pictures showing the new tray next to the tray used for the iPhone 4S courtesy of nowhereelse.fr.
Apple's motives for using a small SIM card standard are simple: the company is trying to save as much space possible inside the device. That can lead to additional components, or more room for a larger battery. The ETSI approved Apple's nano-SIM card standard at the end of May, leading to speculation that the reduced size SIM would be used in the next iPhone. Rumors have also indicated that Apple had already designed the next iPhone around its own nano-SIM standard despite it not yet being finalized, shedding new light on the standards competition between itself and companies like Motorola, RIM, and Nokia.
More recently, the Wall Street Journal reported that European carriers were beginning to stockpile nano-SIM supplies ahead of the next iPhone launch, with BGR confirming with other carrier sources that nano-SIMs would definitely be used for the next iPhone. Nano-SIMs are said to be around 40% smaller than current micro-SIMs. It may not seem like a lot at that scale, but companies are always trying to find a way to cram new technologies into today's smartphones without compromising on thickness and battery life: every little bit really does help.
As for the next iPhone, reports have suggested that Apple will increase the screen size to 4-inches, up from 3.5-inches. The resolution of the screen will see a bump to 1136x640, also changing the aspect ratio of the display to 16:9. Leaked case parts have suggested a two-tone aluminium back for the next iPhone, along with a repositioned 3.5mm headphone jack and machined drilled speaker and microphone holes. A new 19-pin has also been tipped to replace the standard 30-pin dock connector, but more recent reports have suggested that the smaller connector will in fact be 8-pins.
[via 9to5mac]