Next Galaxy S III dummy photographed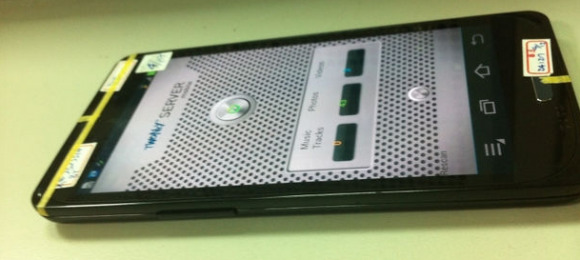 There's no lack of buttons sitting around here on the Samsung Galaxy S III unit that'll almost certainly be revealed early next month at the "Next Galaxy" event. What you're seeing here is a "dummy" unit that contains the Samsung Galaxy S III guts and software, including a Twonky app likely some new version of their Server-based ecosystem. This version of the hardware for the Samsung Galaxy S III is almost certainly next to nothing like the final hardware that'll be shown off next month.
This is not the first time we've seen similar dummy hardware for this device, several times the Galaxy S III or similar smartphones popping up several times over the past few weeks. The real deal will be revealed almost certainly at the start of May when we'll be at an event in London that Samsung is having in celebration of the announcement of the "Next Galaxy" device, or devices. There may very well be a tablet or two at that event as well.
Have a peek at the timeline below to see all the details both leaked and confirmed from Samsung, the streets, and everywhere in-between. There's no knowing exactly what this smartphone will hold, but it's sure to be fabulous. Note that this post was originally located at Reddit.com/r/android and has since been pulled, their source being forum Mobile01.