New Retina MacBook Pros arrived: more power at no extra cost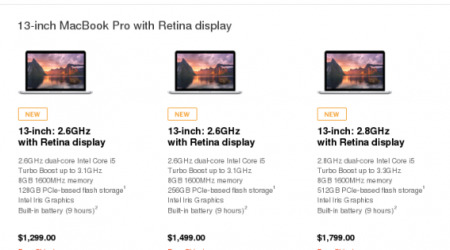 Apple has finally rolled out the its refresh of its MacBook Pro with Retina Display line. The slightly revamped specs match what was leaked from China yesterday, with the absence of a new super-powered model. This time, however, we also get to see what has changed with the 13-inch models as well.
Apple's changes to the underlying features of the Retina MacBook Pros coincides with Intel's unveiling of a fresh new batch of processors. Accordingly, Apple has also taken the time to make a few more tweaks to the line, other than changing the CPU. Fortunately for those still looking to buy a new MacBook Pro, the prices haven't change a bit. In one case it has even gone lower!
The 13-inch MacBook Pros now sport the latest Intel Haswell Core i5, boosting the processor speeds up a notch. At the lowest end of the spectrum, you have one running at 2.6 GHz, up from the previous generation's 2.4 GHz. It might not be a huge change, but the RAM, which is now 8 GB instead of 4, definitely is. Just a step higher is practically the same 13-inch model, with a 2.6 GHz CPU and 8 GB of RAM, but this time with more data storage at 256 GB. Last, but definitely not the least, is the 13-inch MacBook Pro whose CPU has been bumped up from 2.6 GHz to 2.8 GHz. Unfortunately, no other changes for this one.
Next we go to the more powerful 15-inch models that have already been leaked before. As with their 13-inch colleagues, these now bear Intel's newest Core i7 processors. The lower of the two now runs at 2.2 GHz, up from 2.0 GHz, while the other is bumped from 2.3 GHz to 2.5 GHz. The most significant change, however, is in the RAM, which has once again been doubled. Both models now sport a whopping 16 GB of RAM. Noticeably missing is the new 15-inch model that was noted to run at 2.8 GHz, had 16 GB of RAM and a 1 TB hard drive.
The prices for these MacBook Pros have remained the same, with the exception of the 2.5 GHz 15-inch model, which is now actually $100 cheaper than before. To summarize the new figures and old prices, check out the list below.
13-inch, 2.6 GHz dual-core (from 2.4 GHz), 8 GB RAM (from 4 GB), 128 GB storage – $1,299

13-inch, 2.6 GHz dual-core (from 2.4 GHz), 8 GB RAM, 256 GB storage – $1,499

13-inch, 2.8 GHz dual-core (from 2.6 GHz), 8 GB RAM, 512 GB storage – $1,799

15-inch, 2.2 GHz quad-core (from 2.0 GHz), 16 GB RAM (from 8 GB), 256 GB storage – $1,999

15-inch, 2.5 GHz quad-core (from 2.3 GHz), 16 GB RAM, 512 GB storage – $2,499 (from $2,599)