15-inch MacBook Pro refresh leak: 16 GB RAM, same price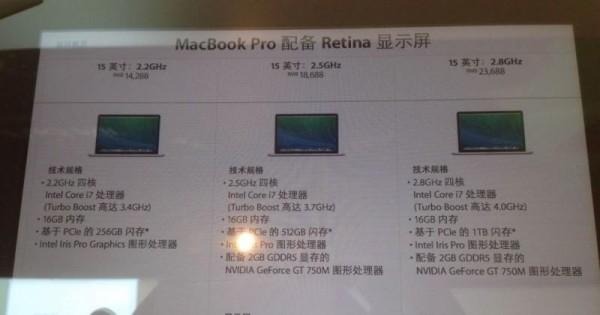 A refresh of Apple's 15-inch Retina MacBook Pro models might be on its way, boasting of beefier specs at almost no extra cost. The Cupertino-based company will also be expanding that line with a total of four models to choose from. That is, if this leaked photo from the company's store in Chongqing, China is to be given credence.Intel just recently revealed a fresh new batch of Core i7 chips last week, and, at least based on this leak, Apple's MacBook Pro line will be one of the first to showcase its new powers. The new Apple notebooks will run on the new Core i7's, with configurations starting at 2.2 GHz all the way up to 2.8 GHz. The one thing that all these options will have in common is a whopping 16 GB of RAM, simply double the 8 GB inside the current generation.
At the lowest rung of the ladder is a configuration with a 2.2 GHz Core i7 to replace the older one that ran at 2.0 GHz only. Next up is the 2.5 GHz version, supplanting the older 2.3 GHz, but this actually comes in two versions. One has only an Intel Iris Pro graphics chip but the other adds an NVIDIA GeForce GT 750M mobile GPU. Apple has added a third tier this time, with the highest running 2.8 GHz i7 CPU. This one only comes in a version that has both Intel Iris Pro and NVIDIA graphics.
The Chinese chart also notes the retail prices for these models, starting at 14,288 RMB ($2,300) for the 2.2 GHz model, 18,688 RMB ($3,000) for the 2.5 GHz one, and 23,688 ($3,800) for the high-end 2.8 GHz. According to MacRumors, these are the same prices for the current gen 15-inch MacBook Pros in China, though their direct converted values are definitely higher than Apple's US price tags.
There is still no word on when Apple plans on announcing the MacBook Pro refresh, but it could be anytime soon if such marketing materials are already available. The company is expected to also update the 13-inch MacBook Pro line though the exact details of what has changed are not yet known.
VIA: MacRumors