New PS4 controllers, hard drive covers come in plenty of colors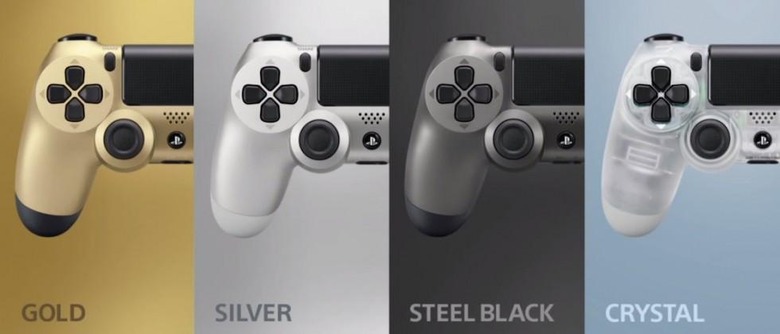 Sony's pre-Tokyo Game Show press conference was fairly low-key, but they still managed to make several hardware-related announcements. Along with PlayStation VR becoming the official name of the virtual reality gaming headset, and a new lower price for the PlayStation 4 console in Japan, Sony also revealed a handful of new colors for the Dualshock 4 controllers, along with an entirely new accessory: replaceable covers for the PS4's hard drive bay.
The new controllers come in four classy, sophisticated colors, including Gold and Steel Black, which each have standard black on the bottom half, along with Silver and Crystal (which is actually transparent) with white on the bottoms. The controllers have the same features and button layouts as the existing Dualshock 4.
The set of four will be launching in Japan on November 6th for 6,480 yen ($54) each. Sony adds that the gold and silver models will be coming to Europe and the US in the near future, but didn't reveal a specific date.
For those who want to customize the look of the PS4 console itself, Sony unveiled colored panels that cover the system's hard drive bay, found on the left side when it's laying flat. Echoing the changeable faceplates from the original Xbox 360, the panels come in a number of different colors, including blue, pink, red, yellow, purple, and of course gold and silver to match those new controllers. The hard drive covers will be selling in Japan for 2,500 yen ($21), but unfortunately Sony didn't say if they will be making their way overseas.