New Popemobile keeps Pontiff on show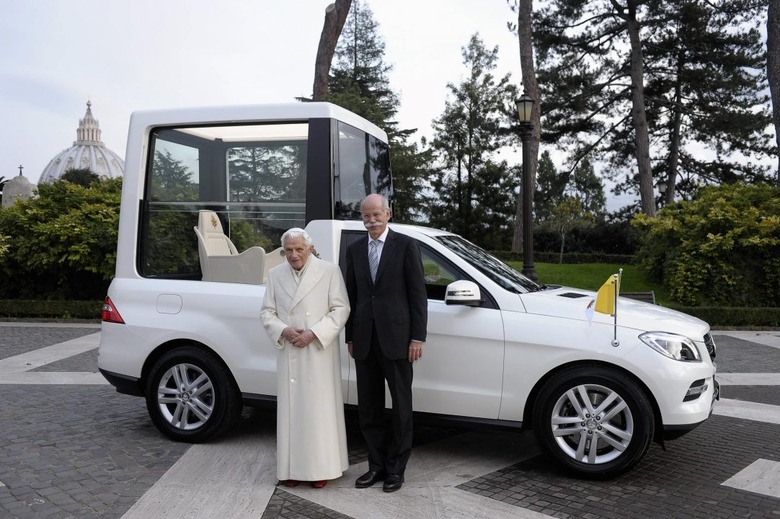 The new @Pontifex account isn't the only toy Pope Benedict XVI has to play with this month: there's also a new Popemobile, courtesy of his friends at Mercedes. The new car – in effect a bullet-proof phone booth on the back of a Mercedes M-Class – replaces the previous Pontiff pod, and features larger viewing panels and more room for his holiness to stand, despite actually having a lower roofline.
Pope Benedict is known for his whimsical red shoes, but the Vatican sensibly stuck with white for the new Popemobile's paint0job. There are some embroidered coat of arms details on the throne inside, however, and the roof lining is illuminated.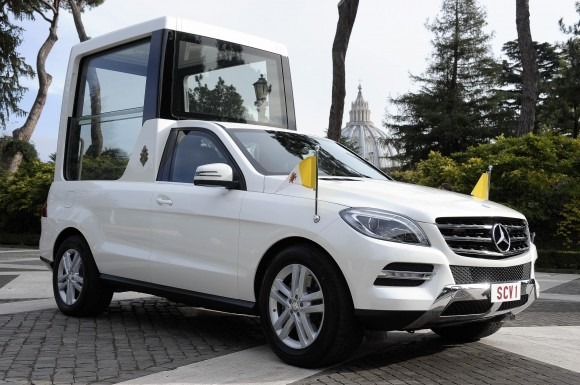 It's safety which is key among the concerns, however, though neither the Vatican nor Mercedes are keen to say exactly how the car has been modified in that respect. Judging by the outgoing Popemobile, in service since 2002 and based on the previous M-Class, there'll be bulletproof glass for the windows and roof, along with reinforced, armored side panels and underbody.
The throne itself is accessed by a huge rear door; it's not clear if it's hydraulically lifted, as in the old model. Mercedes' ML63 AMG top-spec model – in its regular form – can manage 0-60mph in 4.3 seconds, though the Popemobile is unlikely to ever see such speeds.