New Nexus One gets AT&T and Rogers 3G/UMTS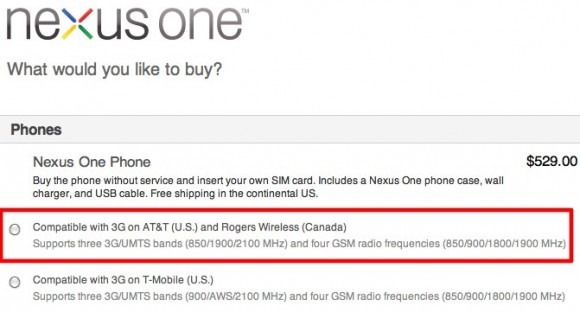 In what we're guessing is a mildly-tactical move to counter claims of poor sales performance to-date, Google have added a second GSM Nexus One to their line up with support for AT&T and Rogers Wireless 3G/UMTS.  The new handset supports the 850/1900/2100 MHz bands, rather than the T-Mobile-friendly 900/AWS/2100MHz bands of the original, and is priced at the same $529.
The move will open up the market to more potential users, though so far there's no sign of a subsidy option.  If $529 upfront is too rich for your wallet then the only option remains T-Mobile USA; it's unknown whether AT&T or Rogers Wireless will be throwing their respective hats into the subsidy ring at some point.
Meanwhile, HTC are tipped to be shipping CDMA versions of the Nexus One in preparation for sales on the Verizon network, a move which should further increase sales figures.  Now, anyone tempted by a new Nexus One on AT&T or Rogers?
[via Android Community]