"Sales failure" Nexus One shifts just 135k in 74 days?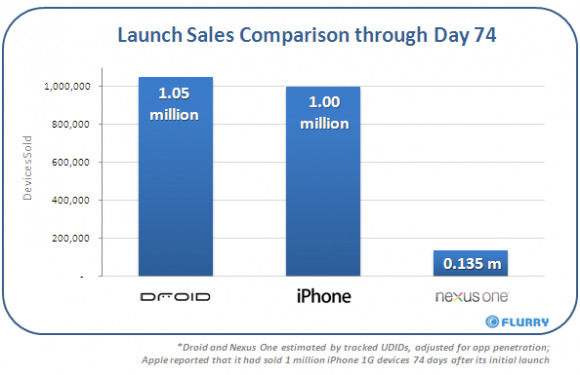 Google's Nexus One has been something of a hit here at SlashGear – check out Ewdi's editorial on why he gave up his iPhone 3GS for the Android 2.1 smartphone – but ongoing sales analytics seem to suggest that the handset's appeal hasn't been felt by the public at large.  According to Flurry – who initially told us that Google had sold 20k Nexus One devices in the first week of sales – only 135,000 have been sold in the 74 days since the Nexus One launched.
Contrast that with the Motorola DROID, another Android handset, of which 1.05m were sold in its first 74 days of availability, or the first-gen iPhone which, in its first 74 days, sold 1m.  Flurry's stats aren't perfect – they track usage figures through partnerships with mobile app developers rather than counting actual devices in-the-wild – but even with flexibility either way the numbers aren't looking hot for the Nexus One.
Of course, Google haven't helped themselves by making the Nexus One an online-only device, rather than pushing it into retail stores as with the iPhone and DROID, and nor will its T-Mobile USA-only official carrier support have helped it much.  Still, as an experiment to see whether it's possible to marginalize the carriers and push the device to the fore, it looks like the US market isn't quite ready; we'll have to see how imminent CDMA availability on Verizon changes things.
[via Android Community]