Google sell 20k Nexus One handsets in first seven days?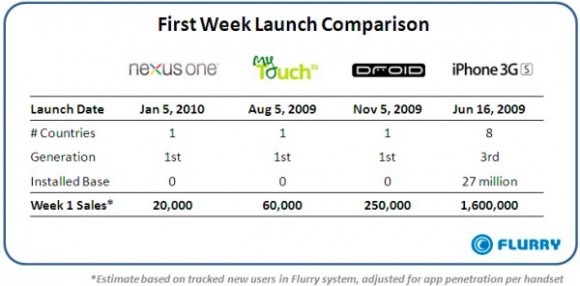 Google's Nexus One has only been on sale for just over a week, and unsurprisingly the search giant aren't being especially forthcoming with sales figures quite yet.  That hasn't stopped mobile application analytics company Flurry from sticking their collective neck out and estimating around 20,00 of the Android 2.1 devices had been sold, and contrasting that with first-week Motorola DROID sales of 250,000 handsets and iPhone 3GS sales of 1.6m handsets.
Flurry uses its partnerships with mobile app developers to compile its usage figures, claiming to monitor more than 10,000 Android and iPhone devs and the penetration of their software.  That way, it can also track new devices making an impact on its database, and thus make educated guesses as to how many new Nexus One handsets were in-use.
The company is blaming the comparative sales shortcomings on minimal publicity (in the traditional sense) by either Google or T-Mobile USA, the company's initial carrier partner.  In contrast, the T-Mobile myTouch 3G, Verizon DROID and AT&T iPhone 3GS all had significant marketing campaigns.
[via GigaOm]