New Kindle Oasis (2019) adds screen warmth control to save your eyes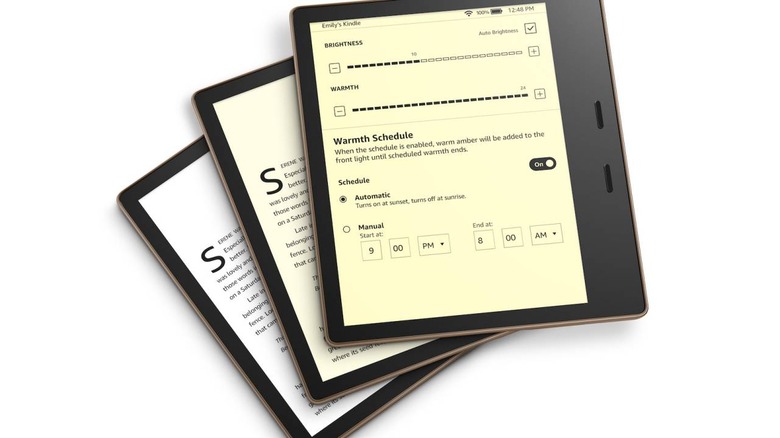 We may receive a commission on purchases made from links.
Amazon's flagship ereader, the Kindle Oasis, is getting another update, adding a color-adjustable front light for its new e-ink display. Now in its third generation, the slender ereader carries over the style – and the waterproofing – of its predecessor, the second-gen Oasis launched in late 2017.
That model added much-requested features like IPX8 water-resistance – which can withstand immersion in up to two meters of fresh water, for up to an hour – along with Audible ebook support. It also increased the display size over the first-generation Kindle Oasis, pushing it up to 7-inches.
This third-generation Kindle Oasis sticks with that screen size, and the 300 ppi resolution, but the display itself is new. For a start, it promises to be faster than before, meaning page-turns will happen more rapidly. More usefully, the front illumination of the old model is being added to with color temperature control.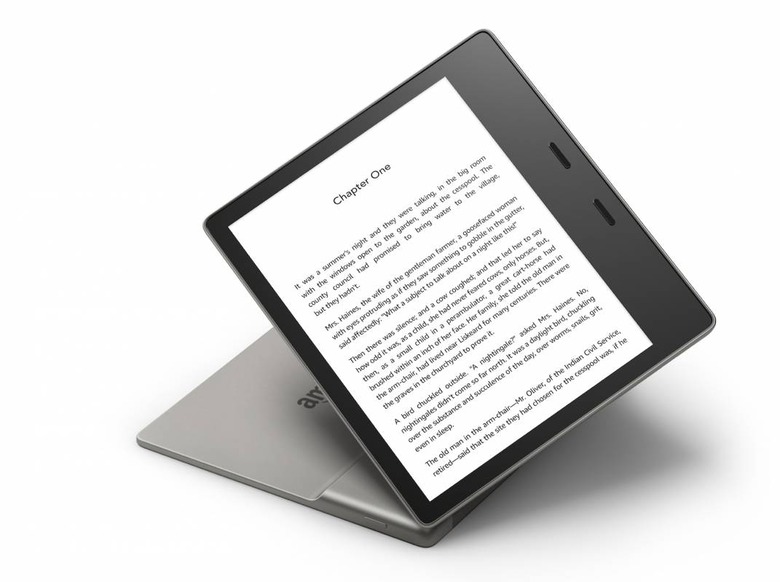 As before, you'l be able to set the brightness manually, or have it adjust automatically according to the ambient lighting in the room. A second slider, however, allows readers to adjust the temperature of the illumination, from cool through to warm.
The idea is that different color tones suit different ambient lighting and times of day. In the evening, for example, you might want a warmer light so as to put less strain on your eyes. During the day, however, a cooler light might be easier to read. The new Kindle Oasis also supports screen warmth scheduling, so that it will automatically update its settings when it's sunrise or sunset, or according to the times of your choice.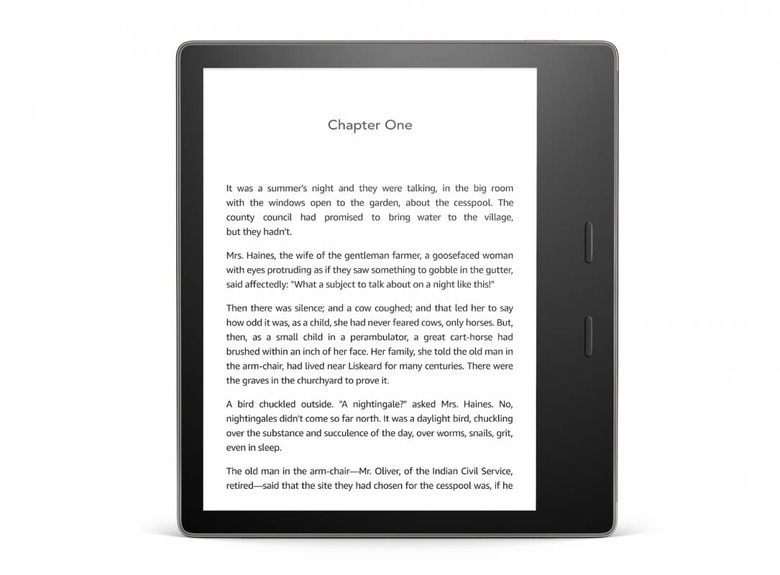 Amazon has stuck with the slim, physical page-turn buttons, though of course you can tap the touchscreen instead if you prefer. Paired with Bluetooth headphones or a speaker, the ereader can be used to play back audiobooks, too. There'll be both 8 GB and 32 GB versions, the latter offering more storage to accommodate larger numbers of audiobooks. Six months of Kindle Unlimited, complete with Audble access will be included out of the box, after which it's $9.99 per month.
Battery life is the usual "weeks," Amazon says, though it's worth remembering that those estimates are typically based on a half hour of reading per day, with the wireless radios turned off, and screen brightness set to less than half. Amazon has new covers for the ereader, too, which automatically wake the Kindle Oasis when opened and put it to sleep when closed. There are three water-safe fabric covers at $39.99 apiece, leather covers for $49.99, and a premium leather cover for $64.99.
As for the updated Kindle Oasis itself, that's priced from $249.99 for the 8 GB model, and from $279.99 for the 32 GB, both with Amazon Special Offers. The versions without Special Offers will be $20 more apiece; alternatively, versions with cellular as well as WiFi will be $70 more. It'll be offered in Graphic and Champagne Gold color options.