New iPad parts most expensive yet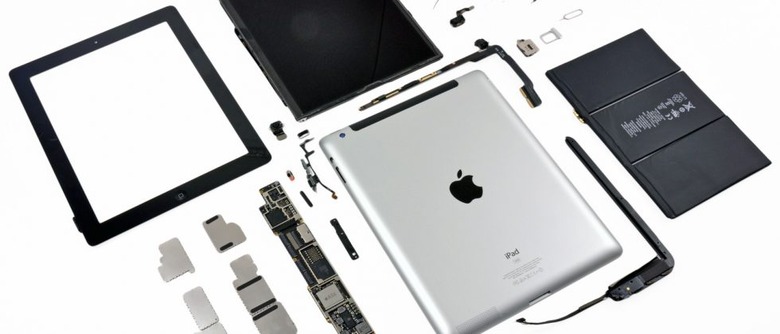 Apple spends more to make its new iPad than on any version of the tablet before, making less profit on each slate according to production research, with the Retina Display being a particular culprit. The calculations appear to confirm early suggestions that Apple's profit margin on the new iPad has been shaved away, with IHS iSuppli saying that the new iPad is around 9-percent more expensive in component costs compared to its iPad 2 equivalent at launch. Some of the increased costs are down to accommodating Apple's ambitions in functionality without compromising user experience.
For instance, the Retina Display – which runs at 2048 x 1536 resolution, compared to the 1024 x 768 of the previous two generations – costs $87 alone, the researchers estimate, a $30 increase per iPad. Those models with LTE use more expensive cellular chipsets, too, with estimates indicating a rise from $25.60 for the iPad 2's 3G radios to $41.50 in the new iPad.
Both the Retina Display and LTE connectivity use more battery life, however, and so Apple has had to install a considerably larger Li-Ion pack than before. That adds over $7 more per unit, at an estimated $32 apiece.
Slightly higher manufacturing costs and more expensive memory also contribute to pricier production, despite Apple keeping its retail prices the same. By the end, a 16GB new iPad WiFi that sells for $499 costs Apple around $306 in components (and another $10 for assembly), up from $237 for the equivalent iPad 2. A 32GB iPad 4G costs $364 in components and retails for $729.
These figures aren't exact, of course – they're based on IHS iSuppli's guesstimates – and they're likely to dip as the technology becomes more commonplace and more suppliers ramp up to compete in the market.