New iPad 1GB RAM confirmed in early benchmarks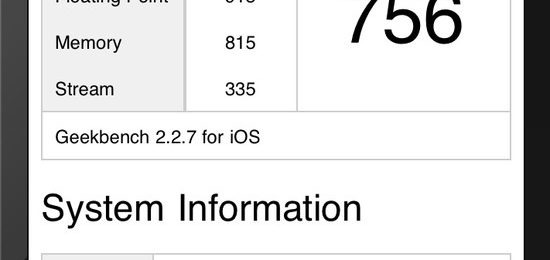 Apple's new iPad has 1GB of RAM, pre-release benchmarking has confirmed, double the amount of the iPad 2, though the Apple A5X CPU appears to be clocked the same as its A5 predecessor. Early Geekbench testing of the new third-gen iPad spotted by iOS tweaker Sonny Dickson revealed the new RAM amount, with the tablet scoring 756 in the synthetic benchmark.
In comparison, the original iPad scored 618 and the iPad 2 scored 751 in Geekbench. The A5X chipset is a modified version of the A5 in the second iPad, still using a dualcore CPU but upgrading to quadcore graphics to help drive the doubled-resolution Retina Display.
While the almost unchanged benchmarks would imply similar processing performance from the new iPad – something our own hands-on experience would concur with – the extra RAM should make a difference in how memory-intensive apps, like the browser, run. Apple's strict controls around what processes can run in the background help with that anyway, but if you've ever had the browser shut down unexpectedly on you because of a particularly heavy webpage, the doubled up memory will be a boon.
Apple has played coy on exact hardware specifications so far, with no mention of specific memory amounts on the tablet's spec page.
Update: The Geekbench results seemingly come from the same source as the new iPad unboxing.
[via Twitter]