New Huawei Mate X 5G foldable phone release date and price official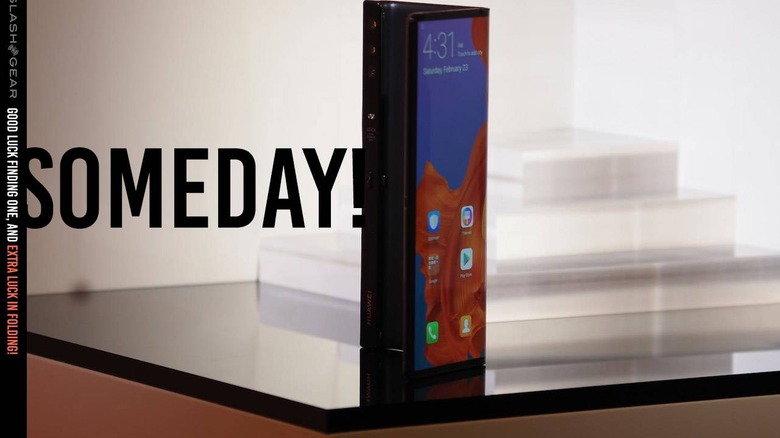 Today we're looking at how affordable it'll be to own one of two of the world's first major-label foldable display-toting smartphones. Samsung released one earlier this year – sorta – and Huawei revealed today that they'll have theirs ready for launch on mid-November, 2019. The Huawei Mate X, as it's called, will be released in limited numbers for right around $2,400 USD.
According to Huawei this week, the Huawei Mate X 5G will be released with both SA and NSA networking modes, allowing it to support both 5G and 4G networks with dual-SIM-card standby tech. More 5G coverage is active in Asia than in the USA – this smartphone won't likely be your best bet if you're aiming to get 5G speed in the USA first amongst friends.
SEE TOO: Our Huawei Mate X 5G gallery!
To take care of all that potential battery-hogging business with super-fast data speeds, Huawei included a big battery and fast charging. There's a 4500mAh battery under the hood, and it'll support "Huawei SuperCharge 55W super fast charging technology." Huawei suggested that this tech will allow the phone to charge 85% of its battery capacity in 30 minutes.
This smartphone was "launched" today for China with a price of approximately 16999 yuan. Converted as of October 23, 3:29 PM UTC by Google with Morningstar, 1 Chinese Yuan equals 0.14 USD. That means 16999 yuan is right around 2405.98 USD. Just over two-thousand, four-hundred dollars for this phone at its base configuration.
Huawei also said earlier this year (all the way back in February) that this phone could cost around 2,299 Euro. As of September 26, 2019, it was still expected that the launch date for Huawei Mate X 5G would be inside October.
It's now looking more like Huawei's latest release date of November 15 will be the solid go-to date for real-deal in-hand launch. This date is for China. The company has not solidified information on the launch of this phone anywhere outside of China at this time. Good luck if you expect to find one inside the year 2019!