Huawei Mate X 5G foldable phone is still coming next month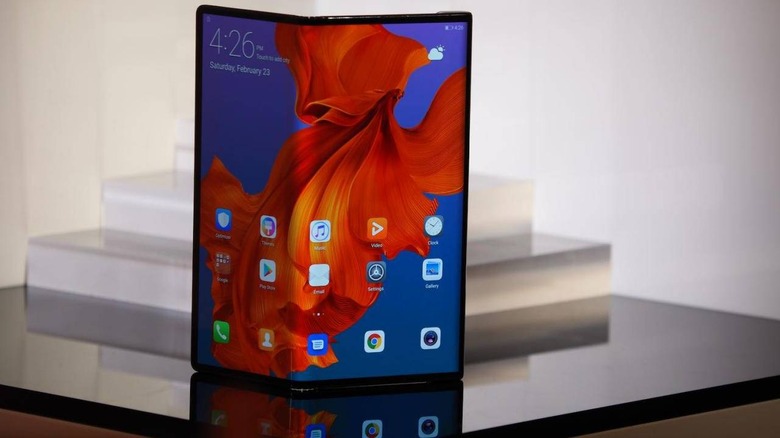 The outlook for the Huawei Mate 30 is a tad bleak. It arguably has some of the best smartphone award this half of the year but all that might be lost on most markets because of the absence of Google Play Store and its related apps and services. It is definitely a trying period for the company as the impact of the US blacklist has finally become real as far as its Android smartphones go. Despite that, it seems that Huawei is still willing to test fate by launching what could be both its first and last foldable phone in a few weeks.
Things almost seemed favorable for Huawei's foldable phone. It was indeed delayed for various reasons, like the aforementioned US blacklist, but it at least gave the company more time to refine its design and improve the phone's durability away from scrutinizing eyes. The Samsung Galaxy Fold wasn't as lucky.
Still, Huawei always said it had the better design, an "outie" compared to Samsung's "innie", and the largely unexplained delays may have not inspired much confidence in the product. Echoing Business Group CEO Richard Yu's promise, a customer representative reportedly confirmed that the Mate X will finally see the light of day sometime in October, exact date still to be announced.
What changes the foldable phone has undergone is still unknown, as the leaks for the Mate X has been practically non-existent compared to the Galaxy Fold. It is expected that it will at least run on the new Kirin 990, though the current page for the product still has last year's Kirin 980. There is also hope that Huawei took the time to upgrade the phone's cameras to the same set found on the P30 Pro from earlier this year, but that might be pushing it.
The Huawei Mate X 5G, however, may face the same problem as the Mate 30 Pro when it comes to the presence of Google Play apps. Huawei could argue that it got the certification before the ban took full effect and may get away with it. Even so, it will still have to prove that its design, which exposes the display to the outside 24/7, is a more reliable design that the Galaxy Fold's.