New Galaxy S8 leaked renders compare it to the S7, Note 7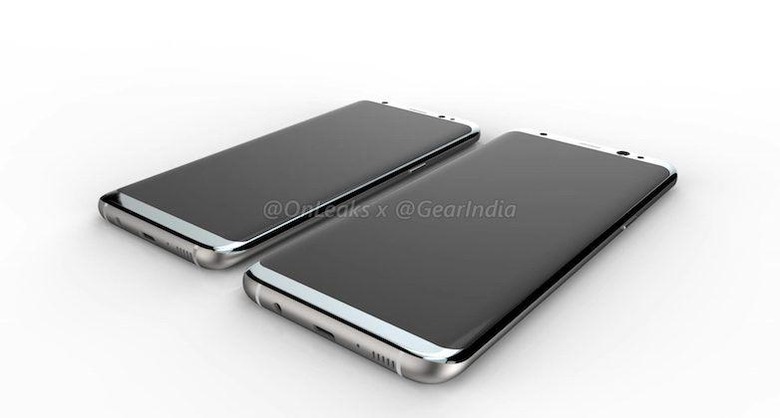 We're getting a look at a comprehensive collection of Galaxy S8 renders today. These renders are some of clearest we've seen yet, and they show off the Galaxy S8 alongside the Galaxy S8 Plus. As previously rumored, these renders show off both phones with dual-curved displays, leaving fewer differences between the two.
The renders come from leaker OnLeaks on behalf Gear India. Not only did OnLeaks make these render images base on factory CADs, but he also developers a 360-degree render video, giving us a more dynamic look at the phones. The images show off a pair of devices that don't look too different from phones like the Galaxy S7 Edge or the Galaxy Note 7, so if they're accurate, then we should see a duo that sticks with the aesthetic Samsung has been pushing for quite some time.
OnLeaks shared a few more images that weren't part of the collection on Gear India. In these three images, he compares certain aspects of the Galaxy S8 to the Galaxy Note 7 and the Galaxy S7. There are a lot of similarities to be found between the three devices, but the most telling difference comes in the form of the rear camera bump. While the Galaxy S7 and Note 7 featured 1.0mm and 0.8mm camera bumps respectively, the Galaxy S8's camera bump is expected to clock in at a mere 0.2mm.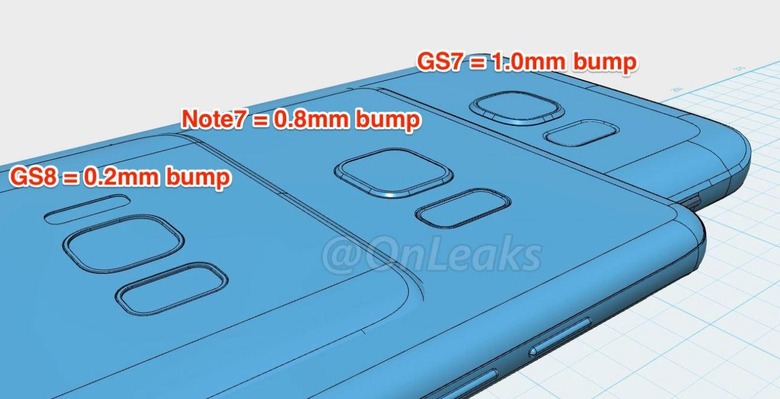 That may not seem like a massive difference, but shaving off eight tenths of a millimeter off the camera could significantly change the way the phone rests on a table. Other rumored specifications for the Galaxy S8 include a 5.7-inch display (6.1-inches on the Galaxy S8 Plus), a selection of processors that include Qualcomm's Snapdragon 835 and Samsung's own Exynos 8895, and Android 7.1.1.
At one point we were expecting Samsung to reveal the Galaxy S8 at MWC 2017, which kicks off later this month in Barcelona. Samsung quickly squashed any chance of that happening, so now the current thinking is that we'll see it introduced at a press event in April. It's then that we'll see if all these leaked renders and rumors hold any water, so stay tuned.
SOURCE: Gear India