New Fisker Karma aims for mid-2016 launch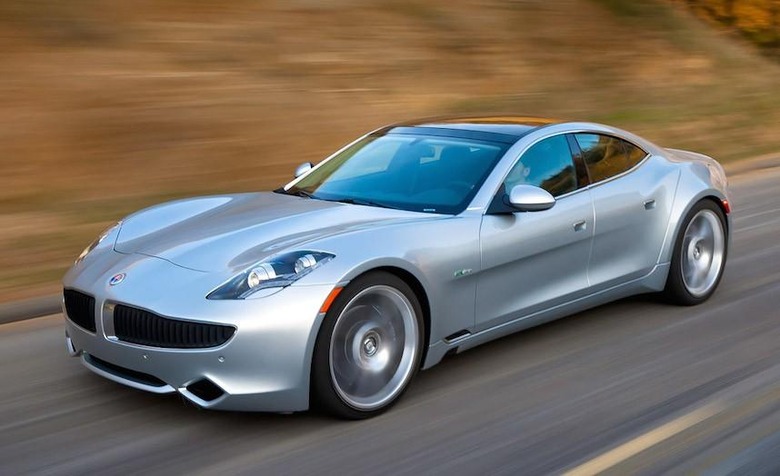 Troubled luxury hybrid maker Fisker is aiming to get its reborn new Karma sedan on roads by mid-2016, the company's new management have revealed. The new Karma will be based on the gas-and-electric original model Fisker Automotive began producing in 2011, though final details are yet to be confirmed. A spate of vehicle fires and underwhelming sales forced Fisker into bankruptcy in 2013, at which point it was snapped up as a relative bargain – albeit one with a history in need of some serious PR massaging – by a Chinese auto-parts maker.
Wanxiang Group bought Fisker in 2014, with plans to reboot the business in the footsteps of EV success story Tesla.
Last month, it was revealed that those plans included shifting manufacturing from Finland to California, with a 556,000-square-foot factory intended for Moreno Valley, roughly 60 miles east of Los Angeles.
Currently, Fisker CMO Jim Taylor told the Orange County Register, the firm is shipping parts in from Finland. The plant itself is expected to be operational by 2016 and employ as many as 150 people, many of whom were former Fisker Automotive employees.
Taylor opted to play it coy on when, exactly, the revamped car will arrive, however. While Tesla's California-centric production may have helped inspire the reborn Fisker's decision to produce the new Karma in the US, the company is less keen to go down the route of the Model X, which has repeatedly missed its delivery estimates.
"One of the mistakes that all car companies make is to talk too early about what might be," Taylor told the paper. "We want to be out next year. Midyear is our target. That's what we've told the plants and our suppliers, but we won't make any promises to say this is our launch date, get ready."
While generally lauded for its looks, the original Karma proved less in-demand than either Fisker or the US Department of Energy had hoped. Government loans of $528m were based on annual sales predictions of 10,000, but only around 1,800 cars were actually sold altogether in the few years of production.
Fisker's new owners are using some of the remaining stock – about 150 – to test new features, while original battery supplier A123, which itself has had a troubled past, will be providing new power packs with revamped chemistry to hopefully draw a line under the fire incidents.
VIA Autoblog
SOURCE Orange County Register