New Asus PadFone Infinity Rocks Snapdragon 800 Chip

Last week we mentioned that Asus was teasing its new PadFone Infinity. That tease consisted of a short video that showed the smartphone rising out of the docking station like a rocket. Asus tipped that it would be holding an event in Taipei this week to unveil the new device.
The new Asus PadFone Infinity has now been officially unveiled and it does in fact have the expected Snapdragon 800 processor under the hood. It also has some other features that make the updated version of the device more interesting for people considering getting their hands on one. The processor is a quad-core QUALCOMM Snapdragon 800 that operates at 2.2 GHz.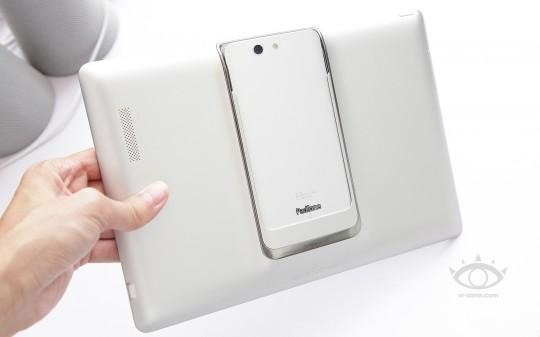 The previous version of the PadFone made due with a significantly slower Snapdragon 600. The new version is available with 16 GB or 32 GB of internal storage. That is a bit of a downgrade from the original device, which had 64 GB of internal storage. The big benefit of less storage is that Asus now includes a microSD card slot allowing you to expand storage via memory cards.
Other than those notable changes, the new device is basically the same as the previous version. The good news about that is if you owned a PadFone before, the same accessories will work with the new version. Rounding out the hardware is a 13-megapixel F2.O rear camera and a 2.0-megapixel front camera. The rear camera can shoot bursts of up to 25 images per second at three-megapixel resolution.
The new version of the PadFone also gets Android 4.2. One of the biggest features lacking in the new version of the PadFone is the Garmin navigation software that came with the previous version. The 16 GB version is available in Taiwan for the equivalent of $640 with the 32 GB version costing the equivalent of $710. There's no indication of when the device might be available internationally. If you you familiar with the PadFone Infinity line, we spent hands-on time with the old version of the device back in February.
SOURCE: Android Community and VR-Zone