Netgear NeoTV turns your HDTV smart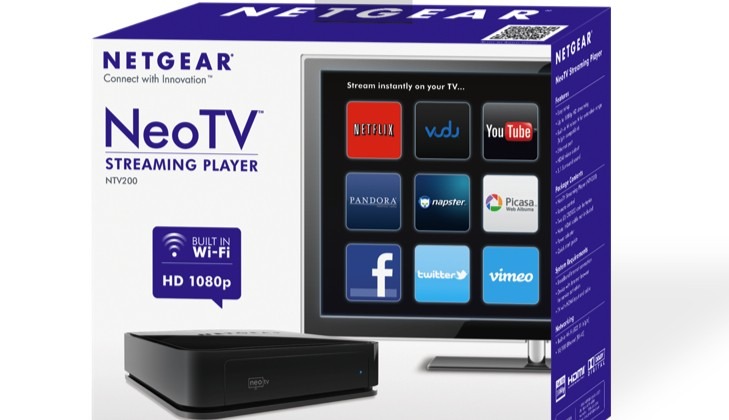 Netgear is taking on Apple TV, Roku and others with its new NeoTV streaming player, a compact set-top box packing integrated WiFi b/g/n and capable of funneling 1080p Full HD content to your TV. Billed as a straightforward way of making your dumb TV smart, when the $79.99 streamer goes on sale later this month it will offer over 100 "internet channels" including Netflix, Vudu HD, YouTube, Pandora and Vimeo, as well as social networks like Facebook and Twitter.
Connectivity includes HDMI, a wired ethernet port, 300Mbps WiFi (with a 2x2 antenna) and an S/PDIF digital optical audio, and while Netgear will bundle a simple remote with the NeoTV NTV200, the company will also offer smartphone remotes. iPhone or Android handset owners will be able to download a free remote control app from their respective software stores, with gesture control for channel navigation as well as an on-screen QWERTY keyboard for easier text entry and search.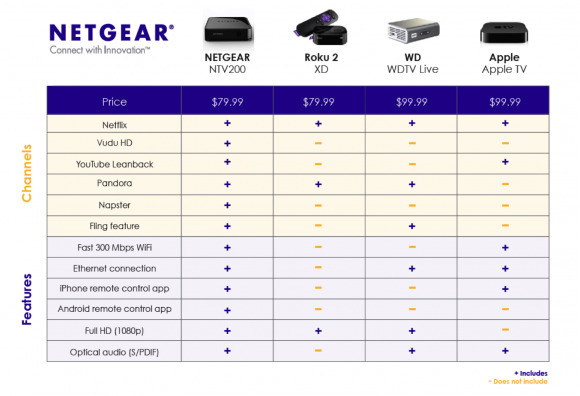 Netgear promises to add more channels all the time, but with Vudu HD there's already support for Blu-ray quality streaming movies accessible at the same time as their physical release. For free content, there's YouTube Leanback, while a clever "Fling" feature allows you to instantly send videos you're watching on your laptop straight to the NeoTV, and pick up watching them on your big-screen TV instead.