Netflix to double original content next year

While we're aware that Netflix is planning to up its game when it comes to original programming, we were never really given a solid number or when it would all occur. However, Netflix's Ted Sarandos says that original content on Netflix will double in 2014 compared to this year, meaning we'll get more House of Cards, as well as a few new shows tacked on.
Netflix is wanting to change the way Hollywood views internet content, and they're even looking to take on HBO to become the supreme when it comes to original ad-free content. Sarandos says that director David Fincher's roll in House of Cards is changing the way people view internet streaming content, where it's no longer a bunch B-list web shows, but actual TV series featuring A-list celebs.
House of Cards is a great example of how Netflix is changing the way people view streaming content. The series stars Kevin Spacey, who is best known for his numerous roles in tons of classic films, such as American Beauty, The Usual Suspects, Se7en, and Superman Returns. The first two episodes of the series were directed by David Fincher, who also directed movies like Fight Club, The Social Network, and The Curious Case of Benjamin Button.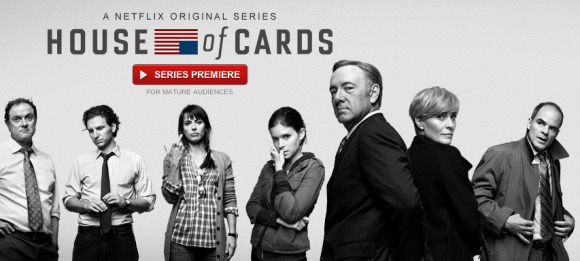 This year already, Netflix has released two original series: House of Cards and Hemlock Grove, with several more original shows on the way: Arrested Development and a Hasbro-sponsored children's show, as well as three more that we know of. That's seven shows total that we know of, meaning that if Netflix kept their promise and doubled their original content in 2014, we'll be getting at least 14 shows next year, but Sarandos says that's merely a goal, not a promise.
Netflix accounts for a third of all traffic that makes its way through the internet, which is something quite impressive, and the service streams more content than YouTube even. Netflix also keeps adding on new users, claiming three million more customers during Q1 2013 to make a total of 37 million users paying for Netflix.
SOURCE: Hollywood Reporter