NES Classic Edition in stock at ThinkGeek, but only for lottery winners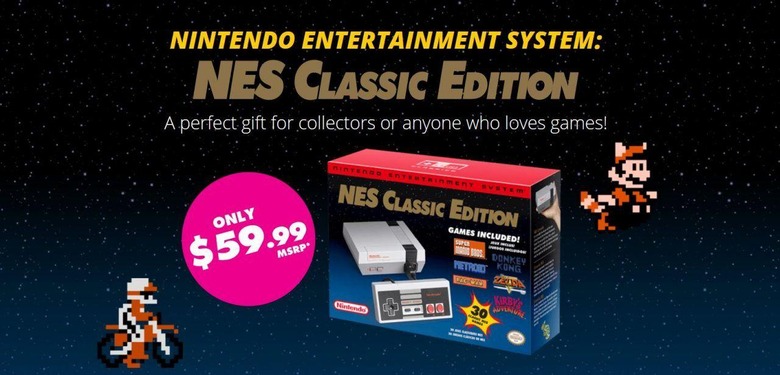 The NES Classic Edition is, unsurprisingly, still very difficult to find. What little stock comes in at retailers around the US is quickly swept up by eager consumers (and savvy scalpers), but the folks over at ThinkGeek have a new approach to making sure everyone has a fair shot at getting one. The NES Classic Edition is in stock over at ThinkGeek, but in order to get one, you'll need to win a lottery first.
The approach is simple: merely create an account and add the NES Classic Edition to your wishlist. ThinkGeek will then randomly select people who have the console on their wishlist and provide them with a code they can use to purchase it. The code is only good for 24 hours, at which point it goes back into the pool to give other customers a shot at buying one.
So far, this is the best approach I've seen to selling the hard-to-find NES Classic Edition. Many retailers have taken to announcing sales ahead of time, but when the time comes to actually buy one, they're gone almost instantly. A lot of folks will blame that on scalpers using bots, and that's fairly easy to believe, given the number of NES Classics that have appear on eBay with a price tag of $200 or more.
Instead of leaving folks to try to click through to checkout fast enough, ThinkGeek's lottery system (and 24 hour grace period to use the code they provide you) evens the field a bit. The first lottery codes went out this morning at 10 AM ET, but Polygon says a second round will be going down tomorrow at the same time. That means you have at least one more shot to secure one from ThinkGeek, if not more.
Hopefully it doesn't come down to beating bots to the punch and participating in lotteries much longer. Even though the NES Classic Edition launched back on November 11, Nintendo has had a very difficult time keeping up with demand. Let's just hope that these NES Classic Edition shortages aren't on the same level as the Wii, which was in short supply for years after launch. Good luck retro gamers!
SOURCE: ThinkGeek