NEC VersaPro VS netbook gets breakdown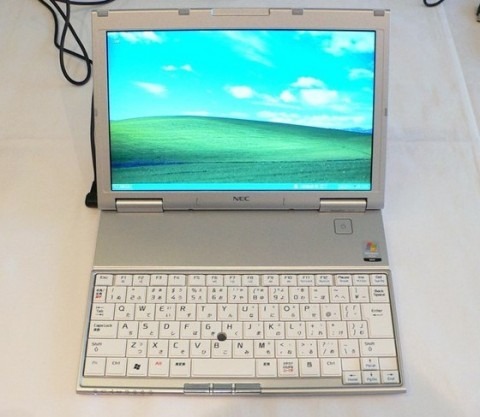 The life of a super-skinny netbook is never straightforward.  Just when you think you're set for a simple photoshoot, with journalists pawing at your 15.8mm chassis, along come Tech-On! and perform an impromptu teardown.  That's been the fate of the NEC VersaPro VS, the Intel Atom Z540 based 10.2-inch netbook we saw earlier this week.Breakdown gallery after the cut
Inside, they found soldered-on RAM, which means the VersaPro is limited to 1GB; NEC say they decided "users will accept it as long as it is intended for Windows XP."  Similarly the 64GB SSD is fixed, NEC deeming it sufficient for business use. 
When they're not tearing the VS apart, Tech-On! report that it feels relatively cool in-use; that's partly thanks to a carbon graphite sheet used to dissipate heat.  NEC's decision to squeeze in three USB 2.0 ports – after recognizing that people may want to connect a USB mouse, 3G modem and USB-toVGA adapter, since the VersaPro lacks a dedicated monitor connector – gets an approving nod, though the matte-finish magnesium case ironically feels like plastic.
What you can't escape is the huge price for the VersaPro VS.  According to NEC, they're not aiming the netbook at individual users, but at enterprise, for whom the spacious 1,280 x 768 display and 17mm key pitch will hopefully be worth paying extra for.