NEC Smartia gives Cloud Communicator tablet an expensive consumer focus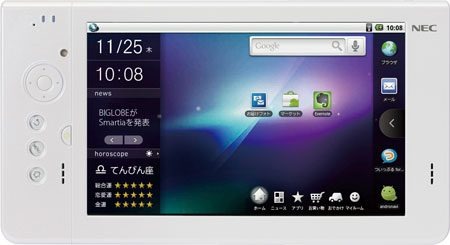 NEC's tablet plans have crossed over into their consumer line-up, with the 7-inch Cloud Communicator getting a rebrand as the NEC Smartia. Specifications for the Smartia are unchanged – you still get Android 2.1 on a WVGA resistive touchscreen, for instance – but the UI has been tweaked and there's the Andronavi app store. Unfortunately, NEC is being rather too ambitious with their pricing.
On sale now through NEC's oddly named ISP, BIGLOBE, the Smartia is priced at 42,800 yen ($510). Somehow the WiFi b/g, GPS, Bluetooth 2.1+EDR and 600MHz ARM Cortex-A8 processor don't exactly inspire at that sort of price.
NEC apparently have 1GHz tablets in the works, together with Android 2.2 and 3.0 updates planned, though there's no timescale for their release. Similarly unknown are any release plans for the Smartia outside of Japan, though we've a feeling that, unless they're willing to significantly drop the price, they won't find many takers.