NASA SpaceX CRS-1 mission gets go-ahead, takes off tonight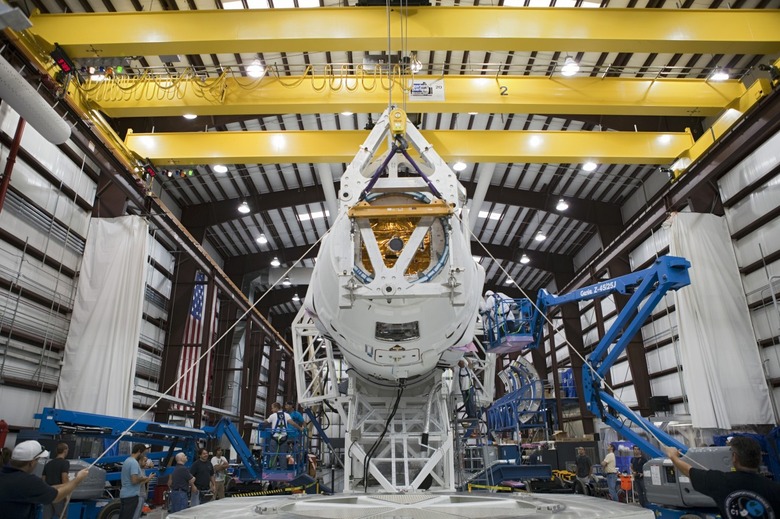 This morning it's been confirmed that NASA has given the go-ahead to SpaceX as they launch their second such mission towards the International Space Station with a Dragon capsule. This mission is known as CRS-1 and will be a rendezvous mission with the ISS done in order to resupply the station with a mission-sized load of operational cargo. This is the main difference between the mission that's taking place now and the SpaceX mission that took place back in May of this year.
The mission will be taking place at 8:35 PM PST on October 7th (tonight) 2012 from Space Launch Complex 40 at Cape Canaveral Air Force Station in Florida. This mission will take place just miles away from NASA's own space shuttle launch pads and the Dragon capsule will – if all goes as planned – join the ISS three days after taking off. Propelling the capsule into space will be SpaceX's Falcon 9 rocket – the first stage of this takeoff includes kerosene and oxygen-powered Merlin engines.
The second stage include a single Merlin engine that will make a boost of the Dragon into its orbit which will lead it directly to the station. A pair of solar arrays will be deploying from the Dragon capsule just 11 minutes after it's been put into orbit. Controllers on Earth will then begin testing rendezvous sensors galore. Video below shows a successful Static Fire test conducted last month for the CRS-1 mission we're seeing today:
The Dragon capsule will spend right around three weeks connected to the station while supplies are taken out, then it'll return to Earth. Supplies include a freezer for the station's scientific samples, a powered middeck locker, and a collection of materials for the astronauts currently living on the station. The locker contains an experiment that NASA is not disclosing at this time.
The mission capsule will be returning with more than a ton (literally) of scientific samples collected at the station. Also included will be hardware used by the engineers up unto this point. This mission's Dragon capsule will be joined in the future by the Orbital Sciences' Cygnus spacecraft and Antares rocket, both of them due for demonstration later this year – get pumped up!
[via NASA]