NASA Morpheus moon lander explodes in flight testing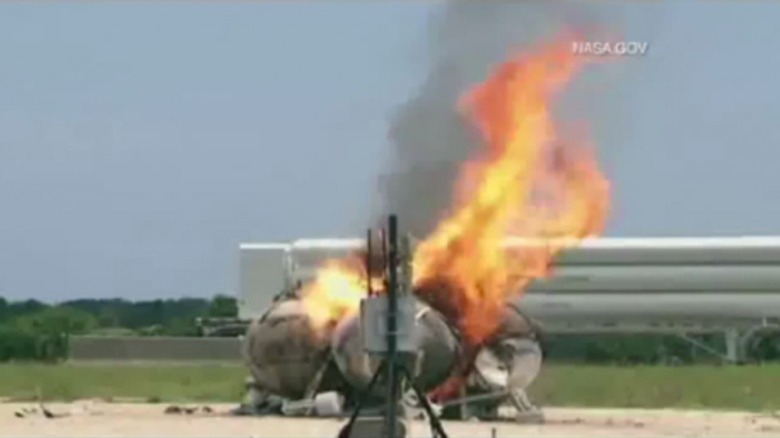 NASA's run of good luck has seen an unfortunate blip today, with a test flight of the experimental Morpheus moon lander suffering a hardware failure and crashing into flames. The so-called "green" lander was undergoing its first free-flight testing today, but managed just a few seconds off the ground before it toppled, Space reports. Nobody was injured, NASA has confirmed, but the incident is an embarrassing and frustrating set-back to the project that hopes to return the space agency to the moon. Check out the video of the crash after the cut.
Unlike traditional landers, which use a complex and potentially unstable mixture of fuels, Morpheus relies on liquid oxygen and methane propellants. They're still highly flammable – as the flames at the Kennedy Space Center this this afternoon contest to – but are also safer and less expensive than the traditional option. They're also more suited to longer periods of storage in space.
Roughly 2.5yrs in development, at a cost of around $7m according to unofficial figures, Morpheus is roughly the size of a large car and uses a complex laser-guided navigation system to avoid ground obstacles. In short, imagine a far bigger Parrot AR.Drone capable of delivering a 1,100 pound payload to the moon, though NASA also hopes to use Morpheus to run extended refueling missions to deep-space probes.
Exact causes of the accident today have not been detailed. "During today's free-flight test of the Project Morpheus vehicle, it lifted off the ground and then experienced a hardware component failure, which prevented it from maintaining stable flight," NASA said in a statement this afternoon. "No one was injured, and the resulting fire was extinguished by KSC fire personnel. "Engineers are looking into the incident, and the agency will release information as it becomes available."
Even with Morpheus' failure, NASA has plenty to be proud of in recent weeks. The landing of the Curiosity rover on Mars has been a triumph of engineering, robotics and programming, and has already begun sending back impressive images from the Martian surface.