Nanovision MIMO 720-S touchscreen display review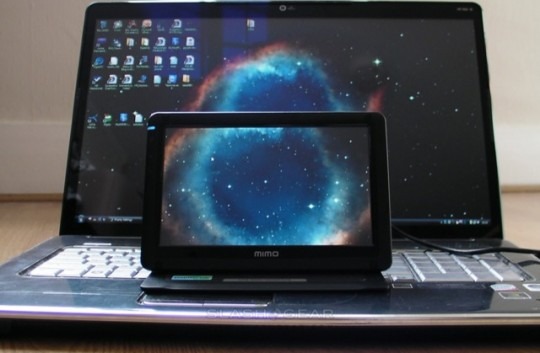 Back when we reviewed the first Nanovision MIMO USB monitors, the UM-710 and UM-730, we wondered whether price and niche appeal would see them a passing fad. The proliferation of roughly 7-inch USB display rivals in the intervening months would seem to suggest that fear was unfounded, and indeed Nanovision are back with their second generation of companion monitors. Now narrowed down to two units – the basic MIMO 710-S and the touchscreen MIMO 720-S – we've had the finger-friendly model on our desk for the past week. Check out the full review after the cut.
The obvious difference between the first MIMO screens and these new models is in the casing. One of our criticisms of the 710 and 730 was that, while small enough to consider portable displays, their awkward stands and lack of screen protection meant transporting them was more trouble than it was worth. Nanovision have answered with a new, patented dual-hinge folding design that acts as a stand when open and as a screen-protector when closed. Now non-removable, the stand is spring loaded and basically limits the LCD to a single angle, one which we found we'd have preferred to be a little less acute.
Rotation, too, is affected, and now the MIMO only rotates clockwise 90-degrees into portrait orientation (though the DisplayLink software still offers all four orientation settings). It's still not automatic, and you have to click into the settings menu in the system tray app to flip between orientations. There are still the same three controls, now running down the top left edge of the display, for power and brightness, plus a blue power LED which is happily dim enough not to prove unduly distracting. Around the back, the miniUSB port is hidden under a rubber flap in the center; Nanovision provide a dual-headed USB to miniUSB cable that's roughly 140cm in length; we found one USB connection was enough for both data and power, but the second can be plugged in should your first port not offer sufficient juice.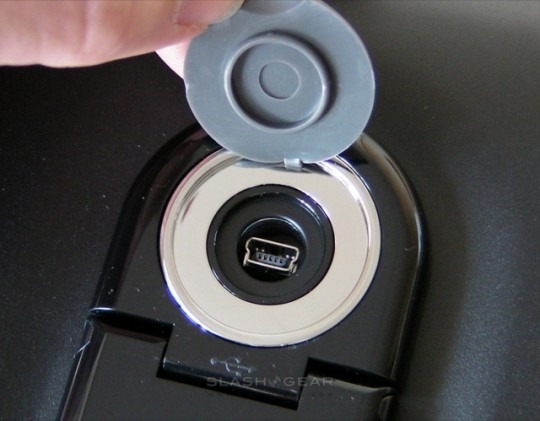 While the 710-S will require a single DisplayLink driver for the virtual USB graphics card, the 720-S needs two; the extra being for the touch-panel control. Nanovision provide a CD with the Windows 2000/XP/Vista drivers, and sure enough we had no problems setting up the 720-S with our Vista test machine. Three new system tray icons are loaded, the first for DisplayLink (which controls screen rotation and whether the screen extends or mirrors your primary monitor) and the latter two for the touch-panel, one for calibrating and configuring it, the second to toggle a single tap between left- and right-clicks. Dig into the settings a little more and you can tweak offsets and touch resolution, choose between whether tapping automatically drags an object, even set the panel to control the cursor on your primary monitor.
Unfortunately Mac users will have a little more trouble with the 720-S, and that's because of the drivers. Nanovision don't supply Mac drivers on the CD; instead you must download them from www.mimo.bz. The DisplayLink driver is still a work-in-progress, at least according to the accompanying documentation, but we had no issues with it. The primary hiccup is the touchscreen driver, seemingly a piece of proprietary software for OS X that Nanovision aren't at liberty to distribute. Instead, you must buy it separately from www.mimomonitors.com where it's priced at $30. We used a test version – which was limited to 100 clicks before demanding recalibration – and had no real problems, but it's galling to face a $30 "Apple" tax on top of the not inconsiderable purchase price.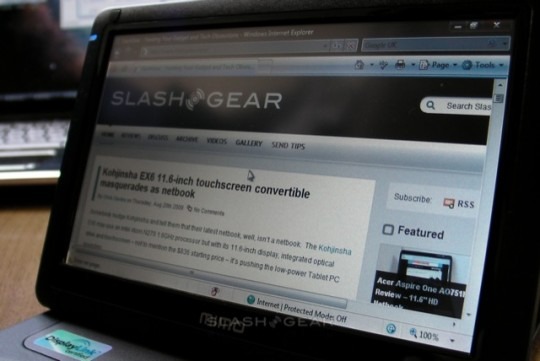 Past that, though, the 720-S proves as useful as you'd expect a second, dedicated display to be. Nanovision are clear to list its limitations – there'll be no DirectX or hardware-accelerated 3D gaming, since you're dealing with a software graphics card emulation, PowerDVD and WinDVD are non-starters, and nor will they show your boot-up or BIOS screen – but beyond that it's down to your imagination. As we found with the first-gen MIMOs, the 720-S works very well as a dedicated Twitter, IM or email display, only now with the bonus that you can quickly tap a link or message to view it, rather than mouse across. Since the resolution is 800 x 480 WVGA, video playback doesn't exceed the capabilities of the DisplayLink drivers meaning you can use it to keep an eye on webcam feeds or YouTube footage; alternatively it's a handy place to keep iTunes or another mediaplayer app, quickly jabbing at the screen to skip through tracks.
Image quality is fair, though nothing outstanding, and we noticed some clouding of the LCD from the resistive touchscreen layer on top. Still, text is crisp and readable, and three columns of popular Twitter client TweetDeck are happily accomodated. You can also plug in more than one, though you'll need sufficient CPU and RAM to accommodate them. Nanovision recommend at least a 1.2GHz processor paired with 512MB of RAM for 1-2 MIMO screens; a 1.8GHz processor with 1GB for 3-5; and a 1.6GHz dual-core with 1GB for 6 displays. At that point, though, we'd probably argue for a single, much larger display, which you could readily find for the same (or less) than two or more MIMOs.
Indeed, where many will stumble is the price. The MIMO 720-S is currently up for preorder in the US at $229.99, as well as in the UK for £149.98, and is already on sale in Germany for €139.95. That's $10 more than its chunkier, non-folding predecessor, the 740, though it lacks that model's integrated webcam and microphone. The $30 Mac driver is also frustrating, though obviously not an issue if you forgo the touchscreen and head for the considerably cheaper ($149.99) MIMO 710-S. Still, a quick glance online finds plenty of bargain LCDs from 19-inches and upward, each far less than the asking price of the 720-S.
That's missing the point a little, though, and none of those bigger screens have a touch-sensitive layer to play with. Where the Nanovision MIMO 720-S excels is as a companion screen for notebook users, something that – with the new case/stand – you can drop into your laptop bag and not worry about getting knocked about. Now, when you're researching in the library, emailing in Starbucks or getting some work done at your kitchen table, you can get much of the benefit of a dual-screen setup without the bulk of a regular secondary display. Still a niche product, then, but one that with a clever redesign serves that niche all the better.
Nanovision MIMO 720-S video unboxing:
[vms 2268ada57a3be5062fe7]