Nanovision MIMO UM-710 & UM-730 USB displays Review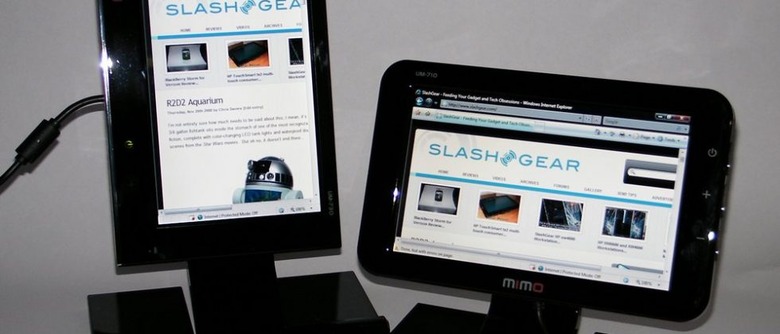 It's a rare occasion when one of the gadgets Korean customers are blessed with deigns to cross over to shores further afield; so rare, in fact, that you can help but have high-hopes for them.  Nanovision's MIMO 7-inch USB displays endeared themselves when first announced, and became only more attractive when the company confirmed US and European availability.  We've had the UM-710 and UM-730 on our desk for the past week; are they legitimate productivity enhancers, or just another USB ornament?
You can see the video unboxings of both displays here.  While there are cosmetic differences between the two displays, the primary changes are the inclusion of a microphone and 1.3-megapixel webcam on the UM-730.  Both come with the same well-weighted stand, which tilts back and forward; a chromed knob holds the screen itself in place at a range of heights.  Each display also rotates 90-degrees, though they have to be at their highest point not to foul the base.  Plastics seem decent quality, and there are grippy rubber feet on the base to stop it from sliding around the desk.
Connections on the UM-710 are straightforward: there's only one.  A single mini-USB port provides both power and data; the supplied cable has two USB plugs on one end, presumably in case a single port can't supply sufficient power, but on a range of desktops and laptops the second plug was never needed.  The UM-730 has a few more sockets; alongside the mini-USB there's a separate DC input (though no supplied PSU), audio input and microphone output.  On the left-hand side of the display there's an audio output, for headphones. 
Contrary to our initial belief, there are no integrated speakers in the UM-730.  We had thought the same USB connection that served the display would similarly allow the device to act as an external soundcard; however, the microphone needs to be plugged into the usual microphone port on your computer.  Audio output is merely a pass-through, useful perhaps if your PC is under the desk and you regularly want to plug in headphones.
The MIMO displays both use DisplayLink technology to create a virtual graphics card via USB.  Since our review samples were the original Korean models, Nanovision instead emailed us the driver installer.  Both Mac and PC drivers are available.  Setup was straightforward and quick, with a system tray icon appearing when the display was plugged in; we only had to restart the computer after plugging in the second screen, which suggests that the typical user may not have to at all.  On our Vista test system we had three new processes amounting to 6536K with no displays attached; that climbed to 27,308K with one screen plugged in, and 44,968K with two.
Plugged in, the monitors show up in the usual Windows properties dialog, and can be adjusted as normal.  Only one resolution is offered, 800 x 480.  Physical controls on the displays themselves are limited to power and brightness control; on the UM-710 there are hardware buttons on the right-hand side, while the UM-730 gets touch-sensitive controls along the front bezel.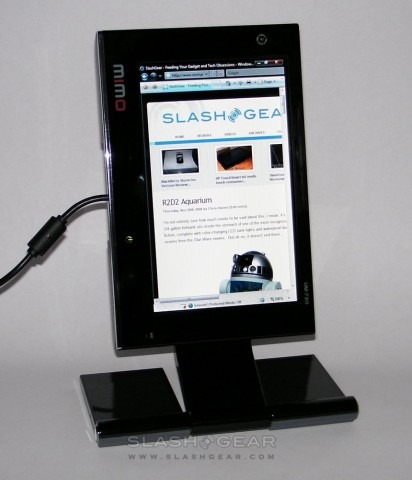 Everything else is controlled from the tray app.  Here screen rotation can be set (in 90-degree increments); we were a little disappointed at the absence of auto-rotation.  Other options include 16- or 32-bit color, extending or mirroring the primary screen, or shutting the MIMO display off, as well as checking online for driver updates.  You can also choose whereabouts in relation to the primary display(s) the new ones are – left, right, above or below – or go into the standard display properties settings for more granular control.
We had no problems with performance: even on a relatively low-power ultraportable notebook with both MIMO displays connected, the only slow-down was observed when trying to play separate videos on each screen.  Nanovision certainly don't intend these devices for gaming, nor high-definition video, but they're eminently capable of showing RSS updates, keeping an eye on email or a media player, or dragging toolbars (such as in Photoshop) out of the way of the main workspace.
The webcam on the UM-730 installs at the same time as the DisplayLink drivers, and shows up as a separate imaging device.  Quality was as respectable as most notebook webcams, certainly good enough for video chatting.  We also tried connecting the two screens via a powered USB hub, again with no problems.
Our one significant complaint was going to be about the model line-up.  In Korea, three versions of the MIMO displays are on offer: the same UM-710 and UM-730 that you see here, along with the UM-750 which includes a touchscreen and DMB Digital TV tuner.  Since the tuner wouldn't work with non-Korean bands, the 750 was axed from the European and US line-up.  So, our grumble was to be the absence of a touchscreen version.
However, since the MIMO displays arrived, Nanovision have apparently agreed to slot a new model, the UM-740, into the European and US line-up, which drops the DMB but keeps the touchscreen.  We can see this being the most popular model, especially given the modification potential: it would be a very easy way to add a control interface to a car PC, for instance.
Whether the Nanovision UM-710 or UM-730 are a "good buy" depends on whether you have a use in mind for them.  While there are productivity gains to be had from introducing another display to your workspace, you'll undoubtedly get more use out of a full-size LCD.  However that's not to say the MIMO displays have no use at all, plus their ease of setup and compact size work in their favor; they're also portable enough to carry around with you, though we might not make too much of a habit of it.  Their combination of endearing size and surprisingly useful functionality makes them a winner in our book.
The Nanovision MIMO UM-710 and UM-730 USB LCD displays are available to preorder now, from The Gadgeteers in the US and Scan in the UK.  The UM-710 is priced at $129.99/£85.76 while the UM-730 is priced at $169.99/£105.74.  The touchscreen MIMO UM-740 is priced at $189.99.  They're expected to begin shipping on December 12th in the UK and December 15th in the US.