MyGlass code hints at Google Glass camera wink control

We've seen demonstrations of Google Glass, which recently started shipping out to those who purchased the Explorer edition. One criticism some have voiced is the need to speak at the device, saying certain commands for things like taking a picture. Code in the MyGlass app for Android found by a redditor suggests that such verbal commands might not be necessary thanks to a wink-control feature.
A screenshot of the code is displayed in the image below detailing EYE_GESTURES, of which one specifies "WINK_TAKE_PHOTO", suggesting that users could snap an image with a simple wink, something far less conspicuous than saying, "Glass, take a picture." The code suggests that the feature is optional, and can be enabled/disabled by the user.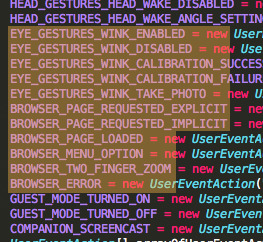 The code speaks of calibration, which would in part keep the device from snapping a picture with every blink. The most obvious solution to that issue is that a wink is longer than a blink, and so someone with an astute eye might notice a longer-than-typical twitch of the user's eye when taking an image. It is suggested the on-head detection sensor could be used as part of the feature.
Of course, such a feature presents a new perspective on the issue of Glass and privacy. Some bars and other establishments have already banned the use of Glass as a pre-emptive strike against privacy concerns, and Google's Eric Schmidt recently said that the device will usher in an evolution in social etiquette. What do you say? Is the ability to take a picture with a wink welcomed or bothersome? Let us know what you think!