My Passport SSD is a new USB-C portable storage drive from WD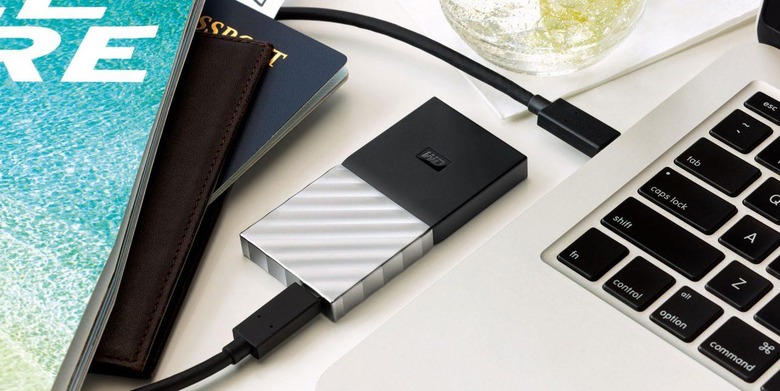 Amongst the few brands that are making the jump – at least in one product – to USB-C for portable storage is WD. They've confirmed the creation of the "My Passport SSD", their first WD Portable SSD product. This device looks tough, can handle some drop damage, and connects to USB-C devices with swiftness.
The My Passport SSD is "the fastest My Passport drive" currently available from the WD brand. With this drive, users will be able to move data at a cool 515 MB/s. In addition to USB Type-C port-toting computers like the newest MacBook Pro, connections include computers with USB-A connectivity.
Inside the box is a USB-C to USB-C cable as well as an adapter to use with "more traditional USB Type-A. With USB-C to USB-C connections, users will experience USB 3.1 Gen 2 (10Gb/s) speeds. Other USB-C cords may work, but we'd recommend sticking with the cord provided by WD in the box for data speed and incorruptible peace of mind.
Data protection inside this device is provided by 256-bit AES hardware encryption and password protection – there's also a 3-year limited warranty included with purchase. Physical protection is provided by the hard body of the drive. With this build, information inside is ready to withstand 1500G of force and a 6.5-foot drop.
The My Passport SSD will be available in three storage capacities, and it's likely all three will be carried by most retail sources. MSRP for each of these sizes is $399.99/1TB, $199.99/512GB and $99.99/256GB USD. Availability will begin today through Best Buy, while other retailers both online and offline will be selling the product soon.
Another USB-C portable SSD to take a peek at is Samsung's latest entry. Have a peek at our Samsung SSD T3 Review to get a closer peek, and compare to the bits and pieces you find above from WD. Both are heavy hitters, to be sure!