MSI X-Slim X600 gets full specs, prices, video unboxing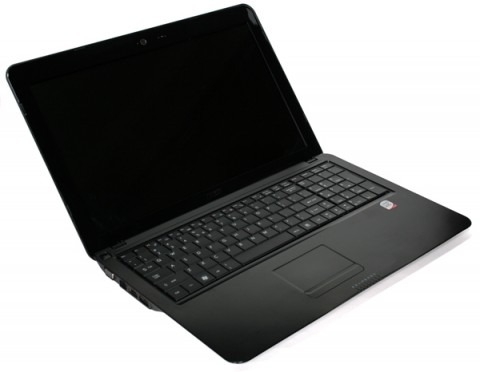 MSI's X-Slim range is about to get a new screen option, in the shape of the 15.6-inch X600.  Notebook Italia have unboxed the biggest X-Slim in advance of its late-June European launch, finding a laptop that may not be as portable as its smaller siblings, but which is perhaps all the more usable.
Unboxing video after the cut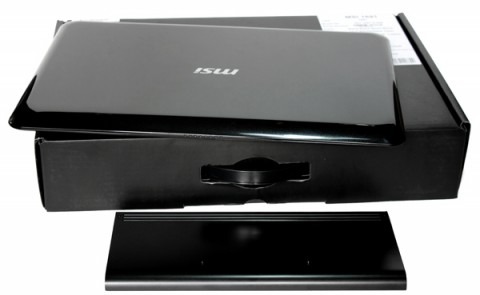 The X600 might have a full keyboard and separate numeric keypad, but it also comes in at just 25mm thick.  Inside there's up to 4GB of RAM, up to 500GB hard-drive, a choice of processors from Intel's CULV range (topping out at the 1.4GHz Core 2 Solo SU3500) and ATI Radeon Mobility HD 4330 graphics with 512MB video memory.
There's also a 6-cell battery, four speakers, VGA, HDMI, three USB, ethernet and audio in/out connectivity, WiFi a/b/g/n and, model depending, Bluetooth.  The 720p-capable display runs at 1366 x 768.  When it arrives in Italy later this month, the MSI X-Slim X600 will be priced between €799 ($1,123) and €949 ($1,334).  Full details of the four models available at launch after the unboxing video.
MSI X-Slim X600 specifications:
Specifications MSI X600 X-Slim-007IT

Processor: Intel Core 2 Solo SU3500 (1.4 GHz)

Chipset: Mobile Intel GS45 + southbridge ICH9M-SFF

Memory: 4GB

Display: 15.6 "HD WXGA (1366x768) glossy

Video card: ATI Mobility Radeon HD 4330 with 512 MB of dedicated memory

Hard disk: 500GB

Audio: 4 speakers

Interface: 1 VGA, 1 HDMI, 3 USB, 1 RJ45, headphone and microphone jacks

Expansion: 1 memory card reader (SD / MMC)

Networking: WiFi AGN, Bluetooth, Ethernet

Dimensions: 39.2 x 25.5 x 2.5 cm

Weight: 2.1 Kg

Operating system: Windows Vista Home Premium

Other: webcam and software bundle

Color: Silver

Price: € 949

Specifications MSI X600 X-Slim-012IT

Processor: Intel Core 2 Solo SU3500 (1.4 GHz)

Chipset: Mobile Intel GS45 + southbridge ICH9M-SFF

Memory: 4GB

Display: 15.6 "HD WXGA (1366x768) glossy

Video card: ATI Mobility Radeon HD 4330 with 512 MB of dedicated memory

Hard disk: 500GB

Audio: 4 speakers

Interface: 1 VGA, 1 HDMI, 3 USB, 1 RJ45, headphone and microphone jacks

Expansion: 1 memory card reader (SD / MMC)

Networking: WiFi AGN, Bluetooth, Ethernet

Dimensions: 39.2 x 25.5 x 2.5 cm

Weight: 2.1 Kg

Operating system: Windows Vista Home Premium

Other: webcam and software bundle

Color: Black

Price: € 949

Specifications MSI X600 X-Slim-009IT

Processor: Intel Celeron ULV 723 (1.2 GHz)

Chipset: Mobile Intel GS45 + southbridge ICH9M-SFF

Memory: 3GB

Display: 15.6 "HD WXGA (1366x768) glossy

Video card: ATI Mobility Radeon HD 4330 with 512 MB of dedicated memory

Hard disk: 320GB

Audio: 4 speakers

Interface: 1 VGA, 1 HDMI, 3 USB, 1 RJ45, headphone and microphone jacks

Expansion: 1 memory card reader (SD / MMC)

Networking: AGN WiFi, Ethernet

Dimensions: 39.2 x 25.5 x 2.5 cm

Weight: 2.1 Kg

Operating system: Windows Vista Home Premium

Other: webcam and software bundle

Color: Silver

Price: € 799

Specifications MSI X600 X-Slim-013IT

Processor: Intel Celeron ULV 723 (1.2 GHz)

Chipset: Mobile Intel GS45 + southbridge ICH9M-SFF

Memory: 3GB

Display: 15.6 "HD WXGA (1366x768) glossy

Video card: ATI Mobility Radeon HD 4330 with 512 MB of dedicated memory

Hard disk: 320GB

Audio: 4 speakers

Interface: 1 VGA, 1 HDMI, 3 USB, 1 RJ45, headphone and microphone jacks

Expansion: 1 memory card reader (SD / MMC)

Networking: AGN WiFi, Ethernet

Dimensions: 39.2 x 25.5 x 2.5 cm

Weight: 2.1 Kg

Operating system: Windows Vista Home Premium

Other: webcam and software bundle

Color: Silver

Price: € 799