MSI X-Slim X400 and X600 get official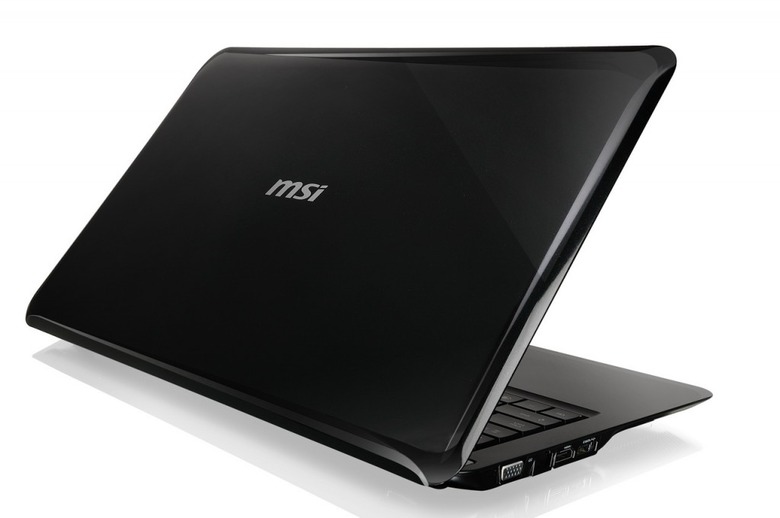 MSI has officially announced their X-Slim X400 and X600 CULV ultraportables, together with confirming that the 14-inch and 15-inch notebooks will land before the end of June.  The MSI X-Slim X400 weighs just 1.5kg while the larger X600 is 2.1kg; each notebook is less than 1-inch thick and have a 16:9 aspect LED-backlit display.
To that, the MSI X-Slim X600 throws in a discrete ATI Mobility Radeon HD 4330 graphics card, useful for driving its HDMI output, while the X400 makes do with Intel's own GMA 4500MHD chipset.  An optional 8-cell "long-endurance" battery will be available for the X400, while the X600 will get an optional 9-cell version.
Storage for both is up to 500GB, while RAM is up to 4GB; each use a Core 2 Solo CULV processor.  No word on definite pricing, but going by Intel's ever-so-helpful 2009 netbook/notebook roadmap they should fall somewhere in-between $699 and $1,100.

Press Release:
MSI Marks a New Era of Slim, Thin, and Light Notebooks With Its Latest X-Slim Series

MSI Takes the Lead to Introduce Ultrathin Notebooks With Intel's CULV

TAIPEI, Taiwan–(BUSINESS WIRE)–MSI today announced that it has successfully reaffirmed its leading position by introducing a series of X-Slim laptops of various sizes. Following the success of the trend setter X-Slim X340, MSI plans to unveil the 14" X-Slim X400 and the 15" X-Slim X600 in the second quarter of 2009.

The X-Slim X600 and X400 have set records for lightness and thinness in their size categories. The 14" X-Slim X400, which comes with a super slender Li-poly battery, weighs only 1.5kg, and the 15" X-Slim X600 tips the scales at just 2.1kg with battery. Less than one inch thick, both models boast 16:9 theater-class LED screens, full I/O ports, and Blu-Ray support. The X600 also comes equipped with a discrete graphic card to maximize visual performance.

The X-Slim X340, with Intel® Core™2 Solo ULV Processor, offers super long battery life with MSI's proprietary ECO Engine and weighs less than 1.3kg with 4 cell battery. X340 not only provides superior functionality to end users, but also triggers another trend in the ultra slim notebook sector.

MSI's latest X-Slim series notebook features an optional 8 cell Long-endurance battery for X340 and X400 and an optional 9 cell Long-endurance battery for X600. To catch with the current market trend, all X-Slim series notebooks adopt external ODD drivers, which further enhances the slim, thin and light characters of X-Slim series.

"I believe MSI's latest X-Slim Series is a complete line of products designed to set new industry standards and the introduction of the X-Slim Series will further strengthens our position in the notebook market and helps us reach a new development milestone," said Mr. Joseph Hsu, Chief Executive Officer of MSI.