MSI X-Slim X340 Notebook to be available soon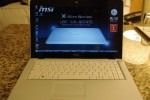 We first heard about the MSI X-Slim X340 earlier this year. We even got some hands-on time, to boot. But now, we finally have a better idea of when we can get our hands on this impressive machine for real, with an announcement from MSI today.
Relying on the Intel CULV platform, this new notebook will be available by the end of this month. In case you forgot already, this MSI offering features a super thin 0.8-inch display that measures in at a LED-backlit 13-inches and a 1.4GHz Intel CULV processor.
It has plenty of connectivity with two USB ports, a VGA output, Ethernet, card reader, HDMI output, and audio and microphone connections. You also have the option of adding on a WiMAX mobile device. We don't know how much the MSI X-Slim X340 will cost yet, but it doesn't look like we'll have to wait much longer.
[via Engadget]