MSI X-Slim X340 gets hands-on, benchmarks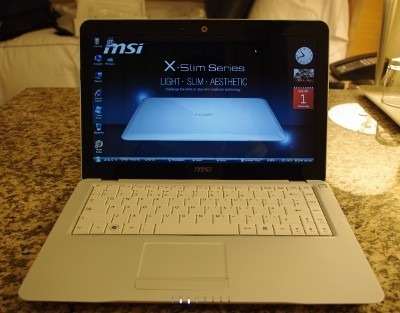 We grabbed some hands-on time with the MSI X-Slim X340 at MobileFocus, but LaptopMag's Mark Spoonauer is obviously far more persuasive (or light-fingered) than we are, as he got to take the slender ultraportable back to his hotel room for the night.  That gave him time to try out the Intel CULV notebook's media credentials, as well as run some preliminary benchmarks.
Full-screen Hulu was watchable, with decent side-viewing angles, and Vista coped admirably with the 1.2GHz Intel CULV processor and 2GB of RAM.  Mark found the lid to be sturdy and the gloss-finish display not too distracting, and of course there are far more ports than Apple found space for on the MacBook Air.  The X-Slim X340 packs VGA, HDMI, ethernet, two USB, audio in/out and a memory card reader.
As for benchmarking, Geekbench racked up 952 points, putting the X340 175 points ahead of the Samsung NC10 and 128 more than the Dell Inspiron Mini 12.  There was some noticeable fan noise (along with weak speakers and a hollow-feeling wrist-rest) but that could be addressed by launch; this is, after all, an engineering sample.
It remains to be seen exactly how well the final production versions will be polished, but we're hearing nothing that reduces our good opinion of the X340.  Considering it will come in at under $1,000 – with 3hrs runtime from the 4-cell battery, or up to 6hrs from the 8-cell – it's a stylish ultraportable that will likely find plenty of buyers.  Now, if only we knew Mark's magic words to lure sexy tech back to his room.
[vms 047a44b08ed031e1f0ed]