MSI X-Slim X340 hands-on: super skinny & WiMAX option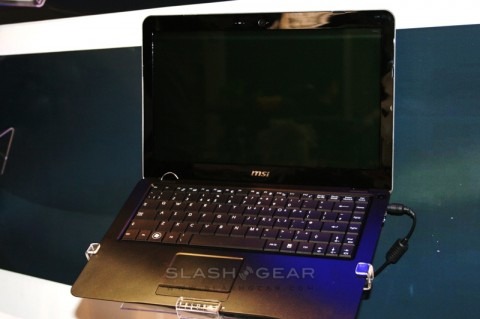 MSI have brought their X-Slim X340 ultraportable along to CeBIT, and while the MacBook Air resemblance is obvious, the MSI does a better job of standing apart in black.   Design cues aside, it's a slick machine, with a 13-inch 16:9 LED-backlit display and power consumption that, according to the manufacturer, is one-sixth that of other notebooks.
Three color options will be on offer, ranging from Air-like "Splendid Champagne Gold", through "Elegant Pearl White" and finally "Stylish Techno Black".  Each has an Intel Centrino ULV processor, weighs 1.3kg and is 1.98cm thick at its broadest point and 6mm at its narrowest.
Connectivity includes HDMI and WiFi b/g/n, together with Bluetooth, and there's optional WiMAX too.  MSI are saying the X-Slim X340 has Blu-ray support, which we're assuming means it can happily hook up to an external drive and play content, as there's no integrated optical drive.
Press Release:
MSI Ultra Portable Notebook X-Slim Innovates with X340 and X600

After debuting the X-Slim ultra portable X-Slim notebook at CES, MSI is ready to announce the latest products in the X-Slim series, X340 and X600 at CeBIT! The all-new X340 and X600 both feature Intel ULV architecture for performance and power saving advantages. This is another new mark in the history of the notebook market!

X-Slim is the new product lineup this year from MSI. The product series aims for "Light, Slim, Aesthetic" product designs to challenge the senses of consumers and extremes of notebooks. After the X320 was introduced to the world, it has become a hot topic among consumers. Sam Chern, MSI's marketing director, mentioned that "Light, Slim, Aesthetic" is going higher up the list of consumers' notebook purchase decisions. As a result, MSI is leading the pack with X320 and will be further expanding upon the X-Slim series with more innovative ultra portable notebooks.

X340 ultra portable notebook, making its first showing at CeBIT, shares the same specifications as X320, including the golden ratio 16:9 cinematic 13" LED display, weight of just 1.3kg, thickest point at 1.98cm thin and just 6mm at its thinnest. This notebook is even thinner than a small pack of tissue paper!

However, in direct contrast with X320, which was designed for consumers with long life mobile computing needs, the X340 is designed for users with multimedia requirements. Therefore, while X320 features the Intel Menlow platform, X340 uses the Intel Centrino mobile platform with ULV CPU architecture, which provides the user with performance, multimedia features, as well as power saving advantages. Even more amazing is that the total power consumption is merely one sixth of other notebook computers!

Not only that, X340 also comes with the complete multimedia feature set, including full I/O ports, HDMI port, as well as Blu-Ray support! For network connectivity, X340 features 802.11 b/g/n Wi-Fi connection, Bluetooth connection, and even optional WiMAX modules!

X340 is offered in three different colors for the preference of different consumers, which are: Splendid Champagne Gold, Elegant Pearl White and Stylish Techno Black. The stylish exterior and elegant design makes it a fashion statement for trendy consumers.

MSI also introduced the ultra portable concept and design to the larger notebook models. The newest X600 is equipped with a 16:9 widescreen 15" display but weighs only 2kg – rewriting the history of large display notebooks! Sam Chern, MSI's marketing director, mentioned that X600 with Intel Centrino mobile platform and ULV CPU would focus on the 16" notebook market and achieve new heights in sales!