MSI X-Slim X320 priced at $831 by retailer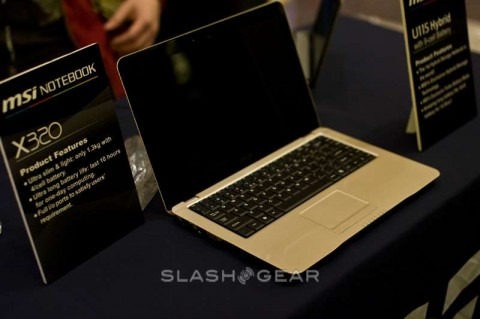 The MSI X-Slim X320, first announced back at CES 2009 in January, may have just been priced by a Philippines shopping site.  According to PC Corner, the MacBook Air-lookalike X320 will retail for PhP 39,999 ($831), with a 13.4-inch display, 1.98cm thick casing and up to 10hrs runtime from a single battery charge.
Specifications are not clear-cut – in fact the PC Corner site is overdue an update, promising more details back on February 15th – but going by what we already know of the X-Slim X320 it uses an Intel Merom processor and MSI's own ECO Engine.  No optical drive, unsurprisingly, but there are three USB ports, ethernet, audio in/out, a memory card slot and VGA output.
Of course, given the difference in taxes, import duty and other things, that's not to say the MSI X-Slim X320 will cost $831 exactly in the US.  MSI are believed to be pricing the X-Slim X340 – which boosts the ultraportable's processor – between $699 and $999, a range which doesn't give them much headroom above the Philippine's X320 price.
[via Electronic Pulp]