MSI Wind U120: 3.5G WWAN, ThinkPad styling & holiday launch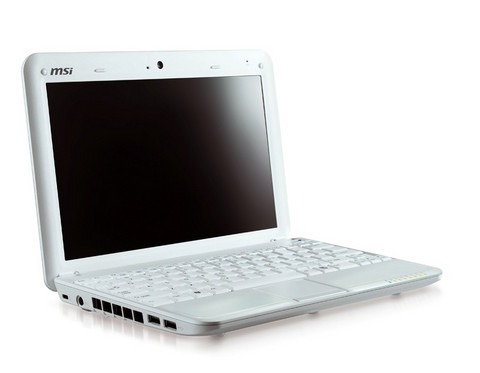 The MSI Wind U120 will target business customers, with a ThinkPad-inspired design, 10-inch display, 120GB hard-drive (with SSDs following), 1GB of RAM and 3.5G WWAN connectivity, and hit retail by November or December priced under $600.  That's the latest word from MSI Director of US Sales Andy Tung, who has been discussing the company's netbook plans after the success of the original MSI Wind U100.  He's revealed that the U120 will sit alongside, not replace, the existing U100, which itself will see a WiFi b/g/n and 160GB hard-drive update this month.
MSI envisage the U100 as remaining popular with teenagers and families, with the new 160GB version priced at $479 while a 3-cell XP Home version will be available "at a national retailer" this week, priced at $399.  The U100 will also get a new, red variant for the holiday season.
The U120, meanwhile, will have squared-off edges and a "ThinkPad" design, intended to appeal to business customers.  However it won't initially have Intel's dual-core Atom 330 processor; despite the silicon company announcing it had begun shipping the CPU, Tung claims the mobile version of Atom is unlikely to reach netbooks "until the second half of 2009".  It will also lack WiMAX, despite the original design suggesting it would.  Implementations of the high-speed WWAN technology simply weren't fast enough for MSI's liking, apparently.
Tung also revealed shipping numbers for the Wind U100, at around 150,000 to 250,000 per month.  A report today suggested that ASUS shipped 700,000 of their Eee PC range in September 2008, though the company does have a far bigger selection of netbooks on offer.  It's unclear how many of those netbooks – from either company – were subsequently returned; according to Tung, MSI has seen a four-times higher return rate for Linux netbooks compared to XP Home versions, which internal company research has attributed to user confusion over the open-source OS.
To deal with that, MSI are working on a Ubuntu distro that has "a Mac OS type of look and feel".  That would hopefully address some recent complaints regarding the MSI Wind U90, the SUSE Linux OS of which proved unwelcoming and refused to even recognize some of the netbook's hardware.