MSI GeForce GTX 680 offers easy Kepler overclocking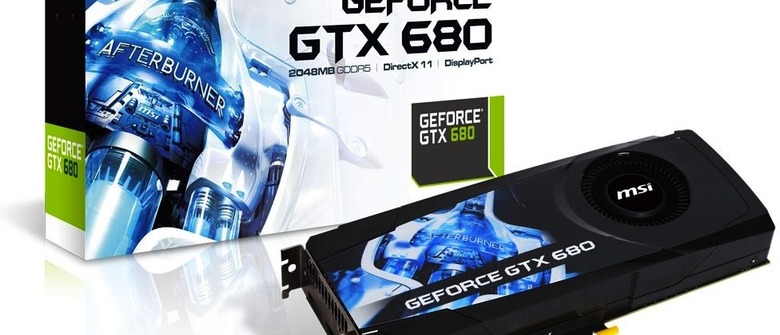 MSI has revealed its GeForce GTX 680 card, using NVIDIA's freshly announced Kepler 28nm GPU and pairing it with MSI's own Afterburner overclocking tool for squeezing out extra performance. The MSI card sticks closely to the NVIDIA reference design – no bad thing given the early reviews - but ramps up the ease of tweaking the card's default settings, so as to squeeze a little bit extra out.
The potential – not particularly capitalized on in the initial products – for driving Kepler further isn't entirely unlocked by Afterburner, but the MSI-exclusive tool should at least go some way to making it easier. It supports GPU and Memory Clock offset and Power limit control, along with in-game video recording and a built-in DX11 effect test for testing out the settings, and can be wirelessly controlled by Android and iOS devices.
Of course, there's also NVIDIA's own GPU Boost technology, which automatically tweaks the core clock speed on-the-fly, depending on load. Ports include a pair of DVI, a DisplayPort and an HDMI, and the card can drive three 3D monitors simultaneously.
Pricing for the new MSI card is expected to be $499.99, though online retailers don't appear to have stock yet.