Mozilla is, unsurprisingly, pretty keen on open-source, and its latest release isn't an updated Firefox version but a set of collaborative office kit as part of the new Open Source Furnitures Project. Designed by Mozilla and NOSIGNER for the browser company's new Japanese offices, the furniture – which includes desks, wooden flooring with integrated cable runs, and portable divider screens – isn't quite at the level of 3D printing, instead relying on commonly-available components so that just about anybody in the world should be able to assemble their own versions.
So, while the flooring may look like regular wooden planks, it's actually mounted on top of plastic palettes. Cables can therefore be run underneath, avoiding any trip hazards and making for dynamically-changeable wiring configurations that can evolve as your use of the space changes.
Meanwhile, there's a multi-purpose "Mozilla Module" – in effect a triangular assembly block – which can be used as a corner shelf, or alternatively integrated into other parts of the Open Source Furnitures range. For instance, the table design uses the Mozilla Module
as a bracing element between the legs and the surface, while shelving can also be mounted on top of the modules.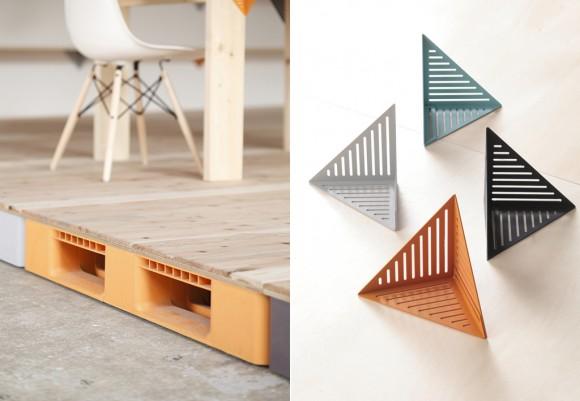 Even lighting gets some Mozilla Module treatment, with small sheets of polycarbonate folded into the triangular cone to make instant light fittings. The same polycarbonate serves as repositionable screens, dividing an open-plan area into more manageable sections.
Mozilla is even giving away the labeling and fonts for marking up the various parts of an office.
It's not the first attempt to democratize design we've seen, of course. Earlier this year, a database of open-source 3D printing plans was launched, positioning itself as the Google of DIY design. This weekend, details of a 3D printed exoskeleton concept were revealed, potentially replacing traditional plaster casts with a more comfortable, hygienic, and environmentally-friendly version created using 3D scanning and custom printing.
VIA Gizmodo