Mozilla Mobile 'Fennec' browser on e-ink touchscreen: Video Demo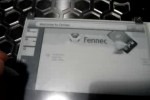 Take one E Ink AM300 prototyping kit, combine it with a build of Mozilla's new Fennec mobile browser, and this is what you get: a touchscreen demo of web surfing on an e-ink device.  It's the work of Jaya Kumar, who loaded Fennec into the AM300's Linux-based Gumstix controller and, with only a little modification, has a usable browser.
Check out demo videos of the e-ink Fennec setup after the cut
Right now memory seems to be the constraining factor; in the second video below, you can see how fast the Midori-webkit-gtk browser runs on the relatively meagre Gumstix computer.  The Gumstix E Ink provide has a Marvell XScale PXA255 processor together with a Bluetooth transceiver, USB, a serial port and an MMC card reader. 
Next up is enabling some form of on-screen keyboard, which requires getting hildon built.  Then he'll be able to use it without any form of external keyboard.
Mozilla Firefox Mobile "Fennec" e-ink demo:
Midori-webkit-gtk e-ink demo:
[via MobileRead]